CANADA MUSLIMS DENOUNCE QUEBEC ATTACK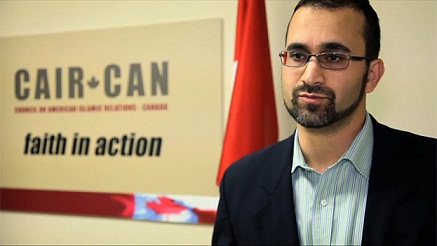 Toronto, 28 Dhulhijja 1435/22 October 2014 (MINA) – Muslim leaders are condemning the recent attack on two Canadian soldiers at a mall parking lot near Montreal which left one soldier dead and another injured.
"Canadian Muslims denounce this appalling attack and our thoughts and prayers are with the victims and their families," Ihsaan Gardee, Executive Director of the National Council of Canadian Muslims (NCCM).
On Monday, Martin Couture-Rouleau, who had reverted to Islam last year and took the name Ahmad Rouleau, rammed his car into two Canadian Forces members, Onislam quoted by Mi'raj Islamic News Agency (MINA) as reporting.
The 25-year-old Couture-Rouleau, a resident of the town of Saint-Jean-sur-Richelieu, near Montreal, was shot and killed after a car chase by Quebec police.
The chase ended when the driver lost control of his car, flipping it into a ditch. Officers shot him dead in a confrontation after he wielded a knife, according to police.
The incident took place in Saint-Jean-sur-Richelieu, around 40 km (25 miles) southeast of Montreal.
Rouleau was on an RCMP watch list and may have been motivated by a violent extremist ideology.
"Our message to anyone who espouses, endorses, or in any way supports this ideology of violence is that your actions have nothing to do with our faith," said NCCM's Ihsaan Gardee.
Martin Couture-Rouleau was investigated by the RCMP for four months as they suspected he had become radicalized.
The RCMP arrested him when he tried to fly to Turkey this summer and seized his passport. However, the police did not have enough evidence to charge him.
In a press conference yesterday, the RCMP detailed the challenges they faced as they tried to stop Couture-Rouleau.
"We cannot arrest someone for thinking, for having radical thoughts – it's not a crime in Canada," said RCMP Superintendent Martine Fontaine.
"We didn't know his intention to use his car as a weapon. It would have been very difficult to prevent that. It's not a crime either to drive a car or be in a parking lot."
The RCMP was alerted to Couture-Rouleau earlier this year.
"Some items on his Facebook page indicated that he was radicalizing himself and was planning to travel overseas," said RCMP Supt. Fontaine.
They continued to investigate him and met several times with him, his family, the imam of his mosque and outreach police officers.
At the last meeting with him Couture-Rouleau indicated his willingness to change his life.
"It's very hard when someone plans to do something alone, with little obvious preparations, and he uses a vehicle as his weapon," added RCMP Superintendent Martine Fontaine. (T/P008/P3)
Mi'raj Islamic News Agency (MINA)