CANADA MUSLIM ATHLETES TAKE RAMADAN TEST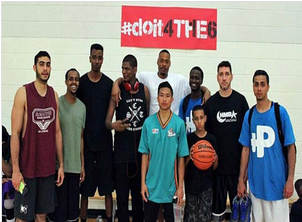 Ottawa, 13 Ramadan 1435/11 July 2014 (MINA) – Abstaining from food and water for 15 hours a day, Hamilton Muslim basketball players are taking the challenge of observing the holy fasting month of Ramadan while keeping their high performance in basketball local tournaments.
"For me, it's not a question," Brian Beauvais, president of Hamilton Muslim Basketball Association, on Wednesday (9/7).
"If you choose not to fast, it's between you and God.But I'm not taking that chance,"he said, Onislam quoted by Mi'raj Islamic News Agency (MINA) as reporting.
Ramadan, the holiest month in Islamic calendar, started in Canada on Saturday, June 28.
In Ramadan, adult Muslims abstain from food, drink, smoking and sex between dawn and sunset.The sick and those traveling are exempt from fasting especially if it poses health risks.
Beauvais is one of the Muslim players who participated in a team in the Positive Productions basketball tournament in Mississauga at the end of June.
For him and the team's starting guard Hamid Nassek, fasting meant no food and no water from dawn to dusk. During the tournament, the team played seven matches in a day, only one of them came after sunset.
"The hardest part is not being able to drink any water," Beauvais said. "It's really a shock to the system."
"Saying we were quite thirsty would be an understatement. By the end I was totally drained. Really tired."
Yet, he added that the intensity of the experience really helps with self-discipline, helping Muslims to share the feelings of the poor.
Seeing the participation of a huge number of Muslim stars in different European and African teams, analysts have raised many questions on the Muslim players ability to fast while playing with their teams.
But Beauvais says even on one of the world's biggest sporting stages, there's still only one option that he would be comfortable with.
"Even in something like that, sports has to be secondary," he said.
"Nothing else can be as important." (T/Nidiya/E01)
Mi'raj Islamic News Agency (MINA)