Can Indonesia Boost Its Halal Industry Like Korea?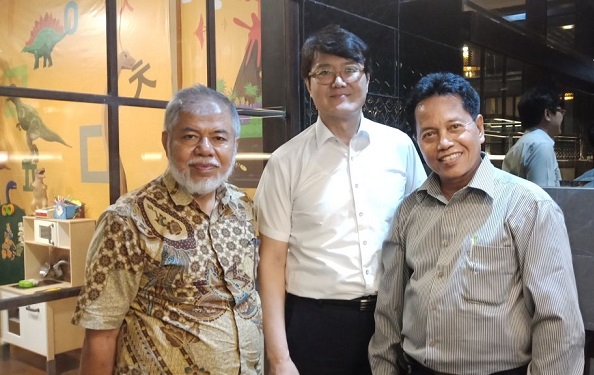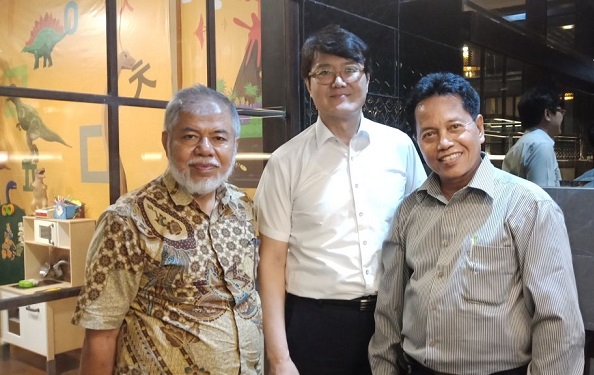 (Interview with DR. James Noh,  Director General of KIHI and KIM, Joo-Cheong, Principal Researcher of Korea Testing Laboratory (KTL), 9/4 in Jakarta. By Shafril Lubis, Director of MINA News Agency)
Although a non Moslem country South Korea has been able to develop and enlarge its halal related food export  very significantly.  Halal related food export has grown from US$ 795 million in 2012 to US$864 million in 2014 and is expected to reach US$ 1.23 billion in 2017.
The industries are motivated to produce halal related products. Korean Institute of Halal Industry (KIHI) carries out education and training to the industry.
To learn more strategy of the halal production that may beneficial to Indonesia in increasing halal product we have discussion with Dr. James Noh.
MINA: What South Korea/KIHI can contribute to develop halal industry in Indonesia?
Noh: In Korea more and more halal food are produced. More food producer more aware of halal food.  As Moslems are minority in Korea, more of the halal food are for export to Moslem countries such as Indonesia, Malaysia and Middle East.  Among popular halal product from Korea is hot spicy chicken ramen, which has also received halal certification from MUI.  As Korea Halal Certificate has to be endorsed by local certification KIHI develops halal process support in country like Indonesia.
MINA: How is the  support of So Korea government to the halal business.
Noh: Government does not directly involve in the process, however support any initiative to promote halal.  KIHI for instance is approved by government to promote halal certification.  Now industries of food, cosmetics and pharmacies are active in the halal certification in order to gain more acceptances to their products in global market, particularly Islamic world.
MINA: What is the objective of KIHI?
Noh: We are focusing on halal industry researches, training and consultating.
Mina: Is it not rather strange that the research, training and consulting are done by institute that by non Islamic country, like Korea?
Noh: Our focus actually is more to industry player, not consumers.  That is the reason goverment approved our instute to take role in the halal process.  We carried out a lot of halal education to many industries companies.  We even invited halal experts from various Moslem countries, like Dr. Yanis.
In the next five years time halal certified companies will be double to 500 companies with over 1.000 items.  With that  level Korea halal production will become one of major producers.
MINA: How do you plan to support halal product certification in Indonesia.
Noh: We at KIHI have a lot of information, result of research as well as data base regarding halal that are very useful in development of halal standard, particularly in the industry.  We are willing to share the knowledge to the world.  We can help the industry in Indonesia to prepare the halal standard facility, such as halal park, as starting point for further process for certification.
With such role KIHI can become bridges for halal products from Korea with the Islamic world to get appceptance and approval from local halal institution.
MINA: What about KIHI contribution to halal certification for medicines.  In Indonesia less than 3 percent of medicines that have halal certificate as more than 95% raw material for medicine are imported with no halal certificates.
Noh: It is common that halal certification will start with food and followed by cosmetics.  Medicines will be the last part because of its complexity.  But we believe sooner or later the medical industry will accept halal certification as more and more Moslem are aware of the halal standard as human needs.  Several Middle East countries now impose on halal certification for medicine.  In Indonesia it will follow in time.
MINA: How Korea will contribute to development of halal standard in indonesia.
Noh: Indonesia is one of the biggest importer of Korean food among 57 countries.  For cosmetics Indonesia is second largest.  We would like to ensure the food and cosmetics are halal.  Now garment is newly entered into halal scheme.  Indonesia imported about 10% of Korean garment.  This will also add to halal products we bring to Indonesia.
On the other hand developing quality laboratorium halal for halal park in Indonesia along with information, data and process will contribute to accelerate halal process in line with regulation by BPJPH.
Although Korea is non Moslem country our advanced technology can take part as pioneer in developing new market for Indonesia halal product, not only locally but also in the global market.  We feel that Moslem people are more friendly to Korean.
Dr. Noh is accompanied by Kim, Joo-Cheong, Principal Researcher of Korea Testing Laboratory (KTL).  Below is our chat:
MINA: Mr. Kim, can you explain the technology developed by KTL in supporting the growth of halal product in Korea, that now is being developed in Jakarta?
Kim:  KTL developes and produce halal environment specification and technology to help the industries manage their products to meet the halal standard.  Our technology can outline detail of tested product very acurately in less then an hour.  With such capability halal standard can be determined and maintained.
We designed the laboratory as simple as possible to allow industry or university have their own halal facility.
We are confident development of the halal park in JIEP, that is under negotiation, will contribute to rapid and significant growth of halal industry of Indonesia.
KTL along with KIHI will support Indonesia halal industry.
Noh: We, KIHI and KTL are willing to develop the halal system with Indonesia goverment, universities as well as the industries.  If government of Indonesia wants to boost the halal industry, particulary to enlarge halal products for export we can design appropriate package.
As we have a lot of information, result of research as well as data base on halal with Mina News Agency make a cooperation to utilize the information and Mina provide us with halal updates in Indonesia.  Such information sharing will be beneficial to strengthen the cooperation in promoting halal as well as producing halal related goods for both countries.(L/R01/RS5)
Mi'raj News Agency (MINA)