UN Official Atributes Rise in Gaza Protests to Increasing Frustration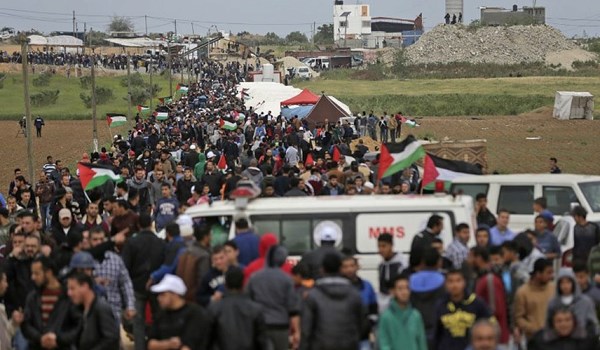 Jerusalem, MINA — The Humanitarian Coordinator for the occupied Palestinian territory, Jamie McGoldrick, Saturday attributed the rise in the Gaza demonstration at the border with Israel on Friday that left seven Palestinians shot dead by Israeli troops and hundreds wounded to increase in frustration over worsening conditions, WAFA reported.
"I am deeply saddened by reports that seven Palestinians, including two children, were killed, and hundreds of others injured, by Israeli forces during demonstrations in the Gaza Strip yesterday. This is the highest fatality toll in a single day since 14 May 2018, when 42 Palestinians were killed," said McGoldrick in a statement.
"I call on Israeli forces to ensure that their use of force is in line with their obligations under international law. All actors must ensure that children never be the target of violence and neither be put at risk of violence, nor encouraged to participate in violence," he said.
"The growing number and expanding nature of demonstrations in the Gaza Strip in recent weeks reflects increasing frustration over worsening conditions of daily life and the continued deprivation of basic human rights, alongside the lack of a political process," said the Humanitarian Coordinator.
"I call on Israel, Hamas and all other actors with the ability to influence the situation, to take action now to prevent further deterioration and loss of life."
After a short lull in the Friday's March of Return protests, started on March 30 and which has so far claimed the lives of over 200 Palestinians and injury of almost 20,000 shot by Israeli soldiers, as Hamas was holding indirect talks with Israel to reach a long term truce and relief in the 12-year-long blockade on Gaza, calls were once again made on the public to resume the border protests during the day and at night, prompting concern of possible outbreak of a new violent conflict between Gaza and Israel. (T/RS5/RS1)
Mi'raj Islamic News Agency (MINA)