BISCA AWARDS: HUMANIZING MUSLIM IDENTITY IN UK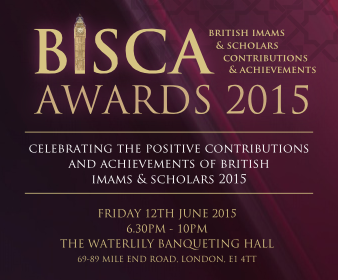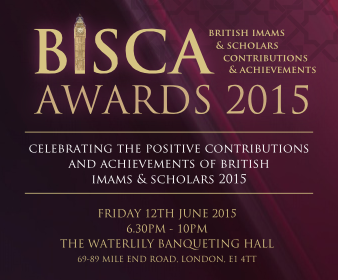 London, 17 Sya'ban 1436/4 June 2015 (MINA) – Recognizing the efforts of British Muslim scholars and imams deemed as the pillars of the Muslim community, the aptly named British Imams & Scholars Contributions & Achievements (BISCA) awards will be announced on Friday, June 12 in London.
"A lot of imams are doing incredible work in different fields in various parts of the UK," BISCA founder imam Abdullah Hasan told On Islam quoted by Mi'raj Islamic News Agency (MINA) as reporting.
"The rewards are a response to what is happening in the in the UK with the media onslaught against imams and Muslims, to give some positivity to their image, to celebrate their positive contributions to society."
The idea of the awards was first suggested to honor Muslim scholars who work quietly in the British Muslim community, steadfastly contributing to making it better and prosperous for all.
In addition to numerous aims for the initiative, BISCA's intent is to showcase positive personalities, male and female, within the British society and their support to creating a better, inclusive and tolerant society for all.
Successfully nominated awardees chosen from ten categories, including interfaith work, chaplaincy work, community cohesion, education and teaching, charity work, youth work, women's empowerment, dawah work, media engagement and the khatib award, will be presented with awards at the "BISCA 2015 Celebrating Goodness" banquet on Friday, June 12, at the Waterlily in London.
The awards are not without controversy as some have objected, shying away from the event to avoid being perceived as showing off.
It's Hasan's contention, however, that this is exactly why the awards event needs to take place.
"As they the imams will not promote themselves, we as a community need to celebrate and recognize them. We need to inspire the younger generation to become imams and scholars."
The awards are intended to be non-political, however all members of the community, irrespective of their political allegiance are invited to participate.
Inspiring Event
Hoping to fill a niche in the market where other categories of awards have gone before, BISCA foresees its initiative as serving as a model to be replicated across Europe, with discussions already taking place in Sweden and the United States.
Hassan, who studied Shari`ah in Jordan and has been an imam for the past ten years in various cities, including London and Manchester, said the winners will be announced by a group of five prominent scholars, three men and two women.
With the final list of nominees at hand, the BISCA team will be tasked with short-listing three successful nominees for each category. This is done by ranking and scoring the candidates against established criterion.
The final nominees from each category are then voted on by the judging panel, with one receipient from each of the ten award categories being selected.
The judges panel includes: Mawlana Shaykh Shahid Raza, head imam at Leicester Central Mosque; Dr. Shuruq Naguib, co-chair of the British Association of Islamic Studies; Mufti Abdul Kadir Barkatullah, a prominent scholar in sharia law; Dr. Fella Lahmar, a teacher of hadith, fiqh and other Islamic studies, also presenting a series on British Muslim TV; and Aamer Naeem, CEO of PennyAppeal, and editor for British Muslim TV; each widely renown in their own right.
Numerous organizations supporting the BISCA award's event include: the Muslim Council of Britain, the Muslim Council of Wales, the National Zakat Foundation, the Muslim Association of Britain, MADE, Alchemiya, and MEND, among others.
Currently, the initiative is also supported by a number of brands including, Al Rayan Bank, British Muslim TV, Penny Appeal, Muslim Aid, Islamic Relief to name a few.
While no government funding has been involved in the current initiative, it is hoped that a more coherent strategy for future events may clear a path permitting support.
Further, BISCA announced on its website that ticket sales proceeds for the event will benefit their chosen charity partner, "Gift of Knowledge," organized with the aim of inspiring people to seek knowledge and to preserve Islamic Scholarship.
As a lead-in to the awards event Hasan hinted that BISCA will be announcing a new initiative, setting out, in part rules for "best practice" for organizations and charities.
It is hoped that the substance of BISCA's new initiate will be a wake-up call to those who abuse donor goodwill.
BISCA also welcomes OnIslam.net among its numerous media partners.
British Muslim TV will be on hand to film the event and a 45-minute highlight video of the evening will be made available online.
After the event, the BISCA website will be updated to include bios of the various winners along with segments of video footage from British Muslim TV.
Social media enthusiasts can keep an eye out for the hashtag #BISCAawards2015.
Busting Myths
At a time when Muslims are facing increasingly high levels discrimination, bigotry, and outright Islamophobic harassment, BISCA may perhaps be a catalyst in humanizing those identified as being Muslim in the UK, marking a clear difference between attention grabbing, ill-intended headline seekers, and the profoundly upstanding moral values held among those within the general Muslim community.
Commenting on the event, Aishah Schwartz, founder and director the internationally-based collaborative of Muslim women who write, Muslimah Writers Alliance (MWA), praised the initiative for contributing to busting the myth surrounding Muslims.
"The BISCA event establishes that there are worthy scholars much greater in number than what is represented by the existing short-list of those on what is otherwise referred to as, the "celebrity speaker tour," stated Aishah Schwartz, founder and director the internationally-based collaborative of Muslim women who write, Muslimah Writers Alliance (MWA).
She added, "It is similar to the aim of MWA in that, we are organized to promote the invaluable service that Muslim women contribute to society through writing.
"After all, for as many people as there who attend these celebrity speaker events, there as many people who read. (T/P006/R03)
Mi'raj Islamic News Agency (MINA)