AWG – UIN Syarif Hidayatullah Holds Palestine History Exhibition and Millennial Talkshow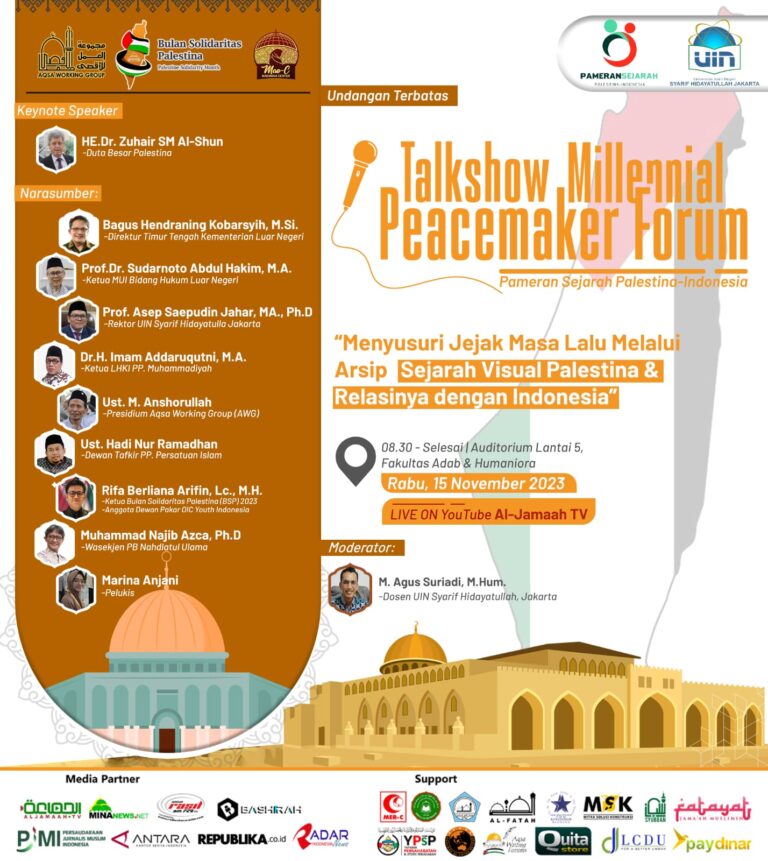 Jakarta, MINA – In commemoration of Palestine Solidarity Month (BSP) 2023, Aqsa Working Group (AWG) together with UIN Syarif Hidayatullah collaborated to carry out a Visual Exhibition of Palestinian History and a Millennial Peacemaker Forum Talkshow by presenting national figures and the Palestinian Embassy.
Among them are the Director of the Middle East of the Indonesian Ministry of Foreign Affairs Bagus Hendraning Kobarsyih, M.Si, Chairman of the MUI for Foreign Relations and International Cooperation Prof. Dr. Sudarnoto Abdul Hakim, M.A, Chairman of LHKI PP Muhammadiyah Dr. Imam Addaruqutni, M.A, Deputy Secretary General of PB Nahdlatul Ulama Muhammad Najib Azca, Ph.D, Islamic Association PP Tafkir Council Ustad Hadi Nur Ramadhan, to the Palestinian Ambassador to Indonesia H.E Zuhair Al-Shun.
The Visual Exhibition on the History of Palestine and the Millennial Peacemaker Forum Talkshow carries the theme "Tracing Traces of the Past through the Visual History Archives of Palestine & Its Relations with Indonesia."
This activity take place at the 5th Floor Auditorium, Faculty of Adab and Humanities (FAH), UIN Syarif Hidayatullah, Ciputat, South Tangerang on Wednesday, November 15 2023, to coincide with the Declaration of Independent Palestine Day.
The series of talk shows was complemented by singing the national songs Indonesia Raya and Palestine, performances of Palestinian poetry from FAH students and AWG representatives, as well as live painting (painting with a Palestinian theme).
Chair of Palestine Solidarity Month (BSP) 2023, Rifa Berliana Arifin, Lc. M.H said that this activity was held at the university to support the role of students in the Palestinian struggle and the Al-Aqsa Mosque.
"This is an activity held to support the role of students as academic elements in fighting for and getting to know about Palestine and the Al Aqsa Mosque," said Rifa, who is also a member of the OIC Youth Indonesia Expert Council.
"Perhaps in future generations, history will record that there are countries that have been erased from the world map, such as Yugoslavia and so on, so we are sure that Israel will also disappear from the world map because of its inhumane barbarity and aggression which violates all forms of international law. ," continued Rifa firmly.
He emphasized that Zionist Israel would be wiped out from the face of the earth as a result of their own behavior and barbarism against the Palestinian people.
As it is known, Palestine has been colonized by Zionist Israel since 1948. During those 75 years, the Palestinian people have continued to try to achieve their independence. Zionist barbarism was shown to the world, starting from murder, evictions, rape, to the desecration of the first Qibla of Muslims, the Al-Aqsa Mosque in the Old City of Jerusalem (Al-Quds). (T/RE1/P2)
Mi'raj News Agency (MINA)