Abbas-Macron Meet on Sidelines of UN General Assembly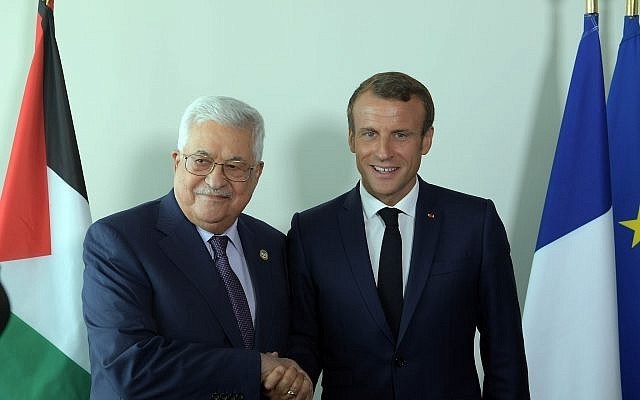 Palestinian Authority President Mahmoud Abbas meets French President Emmanuel Macron on the sidelines of the annual meeting of the UN General Assembly in New York, Tuesday, September 24, 2019. (Photo: Wafa)
New York, MINA – Palestinian Authority President Mahmoud Abbas met with French President Emmanuel Macron on Tuesday, September 24 on the sidelines of the annual meeting of the UN General Assembly in New York, the United States.
Macron told Abbas that his country played a key role in supporting Palestinian cause, the official PA news site Wafa reported.
Abbas arrived in New York on Saturday and was scheduled to address the UN General Assembly on Thursday.
"His Majesty emphasized the important role played by France at all levels in supporting the Palestinian cause," the Wafa report said, referring to President Abbas.
Macron has advocated a two-state solution to the Israeli-Palestinian conflict. His government has recently criticized promises made by Prime Minister Benjamin Netanyahu to annex important parts of the West Bank.
Abbas and Macron were joined by French Foreign Minister Jean-Yves Le Drian and a number of Palestinian officials, including high ranking Palestinian Liberation Organization Saeb Erekat, PA Deputy Prime Minister Ziad Abu Amr, PA Foreign Minister Riyad Al-Malki and others. (T/Sj/P2)
Mi'raj News Agency (MINA)