3 Nobel Laureates Visit Rohingya in Bangladesh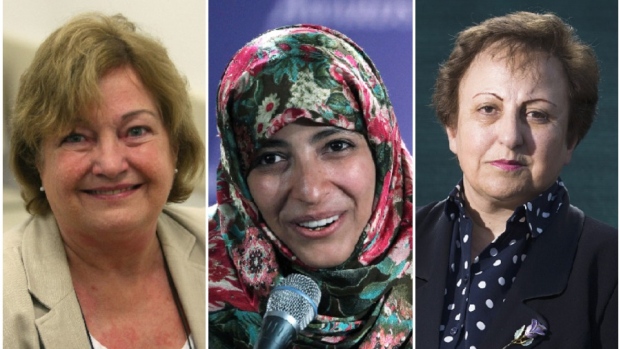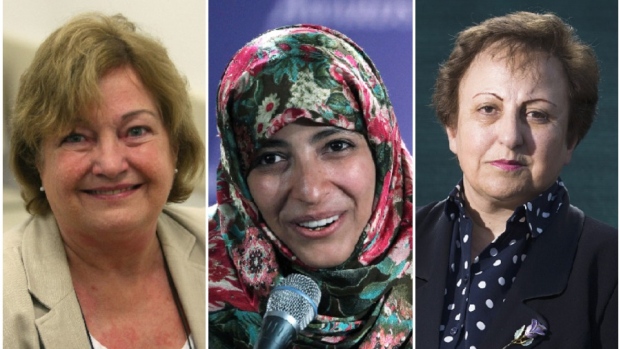 Ankara/Cox's Bazar, MINA – Nobel Peace Prize Laureate Tawakkol Karman has called on Myanmar's "Nobel Laureate" leader to stop violence against the Rohingya and help them to return to their lands.
Three Nobel peace prize winners — Tawakkol Karman from Yemen, Shirin Ebadi from Iran and Mairead Maguire from Northern Ireland — are in Bangladesh to assess the first-hand situation of the Rohingya refugees including violence against women.
Speaking to Anadolu Agency, Karman said that they came to the country on Saturday and they would visit the Balukhali camp on Monday.
She added that they would leave the country on March 1.
Stating that the current refugee crisis was a result of a larger political context, Karman said:
"The highly militarized state of Myanmar has created a culture of total impunity and maintains a system of apartheid against ethnic minorities."
Karman said the Myanmar government denied basic rights of the Rohingya, "including the right to full citizenship, land ownership and education."
"There are nearly 700,000 Rohingya in camps in Bangladesh, and refugees have good reasons to fear going back to Myanmar," she added.
Karman emphasized that thousands of Rohingya had been executed, their villages were burned by the country's military, and "countless" women had been raped.
"Rohingya women physically traumatized by rape continue to cross the border into Bangladesh," she added.
Karman noted that the Rohingya women were victimized twice "for being Rohingya and for being women."
"They have endured decades of brutal and organized state violence in Myanmar, including high levels of sexual violence, and now are displaced and facing new challenges as refugees."
Stating that less than 20 percent of displaced Rohingya women had access to post-rape care, she added their "unique needs" were largely unmet in the refugee camps.
She also raised concern about the reports of women and girls being trafficked both during their journey to becoming refugees and in the camps, and added that their safety and security needed to be a priority.
'Either end violence or resign'
"Bangladesh is the eighth most densely populated country in the world, and is largely unprepared and unequipped to respond to this crisis on its own, including the particular needs of female refugees," Karman stated.
She also urged the international community to step up its support to Bangladesh, where the persecuted Rohingya sought refuge.
Speaking about the steps that should be taken, Karman said:
"Repatriation efforts must not go forward until there is a clear and genuine commitment from Myanmar to treat Rohingya as full citizens and uphold their human rights.
"The issuance of National Verification Cards by Myanmar is yet another warning sign that Myanmar is not yet ready to treat Rohingya as full citizens."
She also suggested that no pressure should be put on Rohingya to return to Myanmar "under current circumstances", and doing so would be another violation of the rights of Rohingya under international law.
"Accountability and justice for crimes perpetrated against the Rohingya people must be a priority for the international community; the refugee problem stems from the crimes against humanity being committed by the Myanmar military and government against the Rohingya," she said, adding that supporting refugees was a "global and shared" responsibility.
"We call on the international community to urgently scale up its support to Bangladesh, as we approach the monsoon season, and to prioritize meeting the basic needs of women survivors of sexual violence — including adequate medical and psychosocial care," she said.
She also urged Myanmar's de-facto leader Aung San Suu Kyi to "immediately" stop the crimes against the Rohingya, to assist them to return to their homeland, to give them full and equal rights as citizens and owners of lands.
"Either that or you resign as you are unable to achieve it," she said.
Karman added that Aung San Suu Kyi would eventually be held responsible for the crimes committed by the military forces in Burma (Myanmar).
"We will take the case to the International Criminal Court," she noted.
Nobel Laureates urge Suu Kyi to take action
Twelve Nobel laureates and 18 others, among them politicians and artists, sent an open letter to the UN Security Council, urging it to intervene, to end the Rohingya crisis, on Sept. 2017.
Nobel Peace Prize laureates Malala Yousafzai and Desmond Tutu also urged Myanmar's leader to speak up for the Rohingya.
The same call was made by Nobel Women's Initiative with an open letter signed by Nobel Peace Prize winners Mairead Corrigan, Jody Williams, Shirin Ebadi, Leymah Gbowee and Tawakkol Karman.
Ethnic cleansing of Rohingya
According to latest data of the UN, 688,000 Rohingya — who escaped violence — have sought refuge in Bangladesh, since Aug. 25, 2017.
It is estimated that there were around two million Muslims living in Myanmar's Rakhine state in the 1970's, and the number has decreased to under 350,000 due to escapes from systematic attacks.
According to satellite images obtained by international human rights institutions, more than 350 Rohingya villages have so far been burnt in the area.
The refugees are fleeing a military operation in which security forces and Buddhist mobs have killed men, women and children, looted homes and torched Rohingya villages. According to Bangladeshi Foreign Minister Abul Hasan Mahmood Ali, around 3,000 Rohingya have been killed in the crackdown.
Turkey has been at the forefront of providing aid to Rohingya refugees and President Recep Tayyip Erdogan has raised the issue at the UN. (T/RS5/RS1)
Mi'raj Islamic News Agency (MINA)