ZIONIST TROOPS RAID WEST BANK AND SHOOT TEENAGER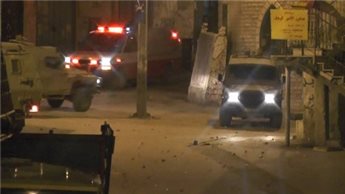 Hebron, 15 Rabiul Awwal 1436/6 January 2015 (MINA)–  Israeli troops shot and injured a Palestinian teenager during a dawn detention raid in the southern West Bank town of Beit Ummar where six men were detained including teenagers, a local official said.
Muhammad Ayyad Awad of Beit Ummar committee against Israel's separation wall and settlements told Ma'an that 19-year-old Noor Muhammad Hamid Zaaqiq was shot in front of his house, Maan News Agency quoted by Mi'raj Islamic News Agency (MINA) as reporting.
He added that Zaaqiq was on his way home after he finished work at a gas station. He was hit in the left foot and was evacuated to al-Ahli hospital in Hebron by an ambulance of the Palestinian Red Crescent.
Awad added that Israeli troops detained Eyhab Omar Awad, 19, Muhammad Jamil Abu Mariya, 19, Amir Muhammad Ikhlayyil, 16, Muhammad Hussein Abu Ayyash, 28, Ismail Fathi Bregeith, 15 and Samir Muhammad Sabarnah, 22.
Awad pointed out that Israeli soldiers assaulted Muhammad Abd al-Jawwad Ikhlayyil, 50, when they detained his son Amir. In addition, the soldiers attacked Muhammad Fathi Bregheith, 36, when they detained his brother Ismail.
The Israeli troops ransacked a bakery in the town, seized the ID cards of all workers and forced them to lie on the ground in the open despite the cold weather.
Israeli troops also raided Hebron and detained 20-year-old Anas Fahd al-Qawasmah, 18-year-old Muatasim Muhammad al-Qawasmah, 20-year-old Muhannad Talal Sidir and 22-year-old Mahmoud Hijazai al-Hashlamoun.
In the nearby town of Bani Naim east of Hebron, Israeli forces detained Asim Ali Ballut, 19, after ransacking his home.
Another detention raid was also reported the northernmost West Bank district of Jenin where Israeli forces detained Muhammad Kamal Walad Ali from the village of Sanur, according to a statement from the Palestinian prisoner's society.
The statement said that Israeli forces detained a young man at the southern entrance to Qalqiliya overnight claiming he attempted to stab an Israeli soldier. The detainee, Abd al-Rahim Tahir al-AShqar, 20, suffers from a psychological disorder, according to the statement.
Amin Dweik and Muhammad Ashraf Iskafi were detained from Jerusalem, the statement added. (T/P010/P3)
Mi'raj Islamic News Agency (MINA)