WORLD REACTS TO ZIONIST FORCES OFFENSIVE IN GAZA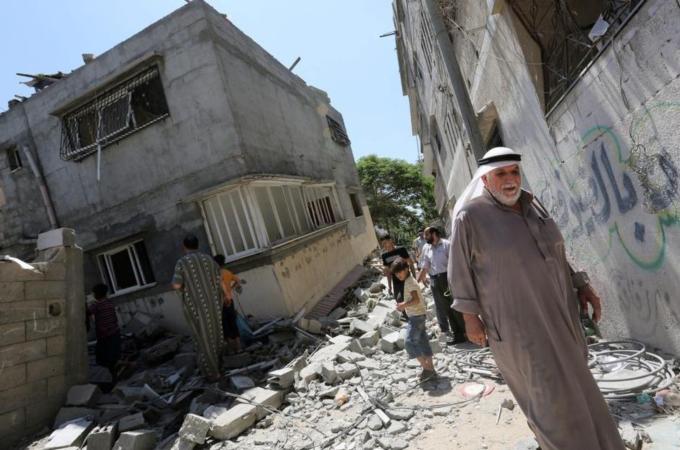 Doha, 13 Ramadan 1435/11 July 2014 (MINA) – The international community remains sharply divided as an Israeli occupation army offensive in Gaza that has killed scores enters its third day, and Palestinian fighters fire rockets at a number of cities in Israel.
Al Jazeera report on Thursday (10/7), at least 81 Palestinians have died in airstrikes since they began on Tuesday, with Israel facing condemnation from many Arab and Muslim countries, and calls for restraint from some of its allies.
Al Jazeera looks at how some world leaders have reacted as quoted by Mi'raj Islamic News Agency (MINA) as reporting.
"No country should be expected to stand by while rocket attacks from a terrorist organisation are launching into their country and impacting innocent civilians," US State Department spokesperson Jen Psaki told.
Arab League General-Secretary Nabil al Arabi called for a emergency meeting of the UN Security Council to "adopt measures to stop Israeli aggression against the Gaza Strip."
"I condemn the rising number of civilian lives lost in Gaza," UN Secretary-General Ban Ki-moon said.
"Western countries and supporters of the Zionists must adopt a firm stance to prevent a humanitarian catastrophe in Palestine," said an Iranian foreign ministry spokesman, the state-affiliated ISNA reported.
Scotland, which is in the UK but has its own parliament separate to London's House of Commons, called on both sides to "de-escalate" the situation and offered to help treat civilians injured in the conflict.
"Scotland stands ready to offer whatever assistance we can and it is in that spirit that we make this offer, to give specialist medical help to civilians caught up in the conflict should medical evacuation be possible," said External Affairs Minister Humza Yousaf.
"The Bolivarian Government of Venezuela vigorously condemns the unfair and disproportionate military response by the illegal state of Israel against the heroic Palestinian people " President Nicolas Maduro said.
The Egypt foreign ministry said "Egypt condemns these hostilities, which led to the killing and injury of tens of Palestinians," and called on Israeli to stop "all collective punishment."
Meanwhile, a statement released by United Kingdom Prime Minister David Cameron's office said he "strongly condemned the appalling attacks being carried out by Hamas against Israeli civilians…and underlined Israel's right to defend itself from them."
"The firing of rockets from the Gaza Strip has led to a situation that threatens to cause a spiral of violence and counter-violence…I hope that all sides will agree that a military confrontation, which could spiral out of control, must be averted," said a statement by the German Foreign Office.
"I condemn unreservedly the indiscriminate firing of rockets into Israel which pose such a grave threat to the population. I equally condemn the mounting civilian casualties, including reportedly women and children, resulting from Israeli air strikes against Gaza" said Ireland Foreign Minister Eamon Gilmore. (T/P09/E01)
Mi'raj Islamic News Agency (MINA)