US, WEST PRESSURE ICC NOT TO PROBE ISRAEL CRIMES: REPORT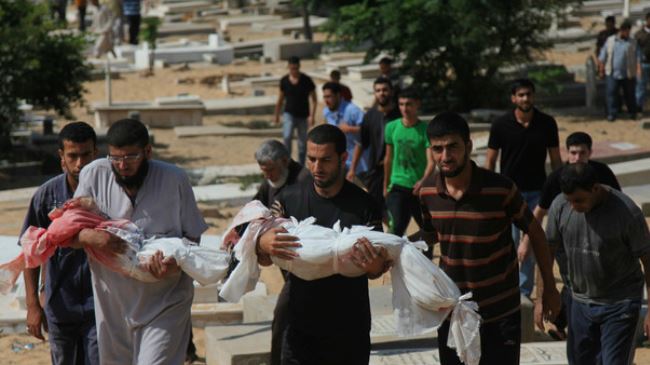 Den Haag, 23 Syawwal 1435/19 August 2014 (MINA) – The United States and some other Western countries are reportedly exerting significant pressure on the International Criminal Court (ICC) to prevent an investigation into Israel's war crimes in the besieged Gaza Strip.
According to The Guardian on Monday, Palestinians had demanded that the court in The Hague examine Israel's war crimes based on a Palestinian request in 2009. However, The Guardian reported that due to US pressure, the ICC is divided on whether it should launch an investigation, Press TV quoted by Mi'raj Islamic News Agency (MINA) as reporting, Tuesday.
According to the report, the UK and France, which are both among the biggest contributors to the ICC budget, also try to prevent investigations into war crimes committed by Israel.
The Guardian said that the probe would not only examine Israel's war crimes in its recent onslaught on Gaza, but also address the issue of illegal Israeli settlements in the occupied West Bank.
The potential investigation could have broad ramifications for the Israeli regime, The Guardian said.
It added that such a probe has become a key issue in the ceasefire talks between the Palestinians and Israelis in the Egyptian capital Cairo.
Earlier this month, Palestinian Foreign Minister Riad al-Malki said he is pushing for a war crimes case at the ICC against Israel due to the Zionist regime's brutal aggression of the besieged Gaza Strip.
"Everything that has happened in the last 28 days is clear evidence of war crimes committed by Israel, amounting to crimes against humanity," Malki told reporters after meeting prosecutors at the ICC on August 5.
"There is no difficulty for us to show or build the case. Evidence is there … Israel is in clear violation of international law," he added.
Palestine is a non-member observer state at the United Nations and its ICC membership has been delayed only because of political quarrels.
Israel launched a major military offensive against the blockaded Gaza Strip on July 8, which raged for more than a month.
The Palestinian resistance movement Hamas and Israel had agreed on the extension of a 72-hour truce for five more days late on August 13. The five-day truce is due to expire Monday at midnight.
At least 2,016 Palestinians, including 541 children, 250 women and 95 elderly men, have lost their lives so far and as many as 10,196 others have suffered injuries in the Israeli attacks. (T/P012/p04)
Mi'raj Islamic News Agency (MINA)