US : Two Killed Trying to Stop Islamophobic Abuse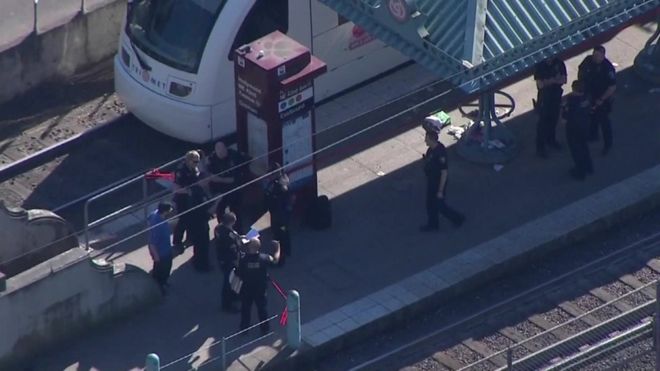 The attack took place on a MAX train at Hollywood Transit Station.
New York, 2 Ramadan 1438/29 May 2017 (MINA) – Two Good Samaritans were stabbed to death on Portland light-rail train when they intervened as a man hurled Islamophobic slur on two women, Anadolu Agency reported, citing police on Saturday.
Jeremy Joseph Christian, 35, was "ranting and raving" inside a Metropolitan Area Express train when "some people approached him and appeared to try to intervene with his behavior and some of the people that he was yelling at," Portland police spokesman Sgt. Pete Simpson said. "They were attacked viciously."
One man died at the scene and the other was pronounced dead at hospital, Simpson said, as a third passenger was being treated for non-life-threatening injuries.
"These were folks just riding the train and unfortunately got caught up in this," Simpson said.
He said Christian, who is held without bail, used "hate speech or biased language" against the women, one of whom was wearing the hijab.
North America's largest Muslim advocacy organization, Council on American-Islamic Relations (CAIR), on Saturday called on President Donald Trump to denounce "rising bigotry" against Muslims.
"President Trump must speak out personally against the rising tide of Islamophobia and other forms of bigotry and racism in our nation that he has provoked through his numerous statements, policies and appointments that have negatively impacted minority communities," CAIR Executive Director Nihad Awad said.
The attack in Portland occurred on Friday as most of the world's 1.6 billion Muslims were getting ready to observe the monthlong fast of Ramadan.
Police spokesman Simpson said: "Our thoughts are with the Muslim community. As something like this happens, this only instills fear in that community.
"We have already reached out previous to this incident to our Muslim community partners and the different imams about extra patrol during Ramadan. We want to reassure them that that will continue," he added. Portland is home to about 50,000 Muslims.
"This appears at least to be an isolated incident based on what we know at this point," Simpson said.
Suspect Christian faces charges aggravated murder and attempted murder, among others. He has a criminal record of kidnapping, robbery, and weapon convictions. (T/RS5/RS1)
Mi'raj Islamic News Agency (MINA)