UK BOXING CHAMP LEADS CAMPAIGN TO HELP REFUGEES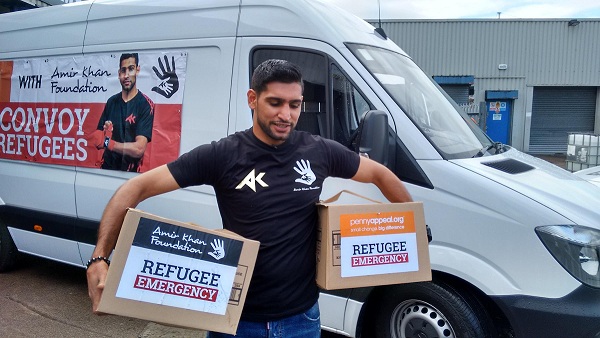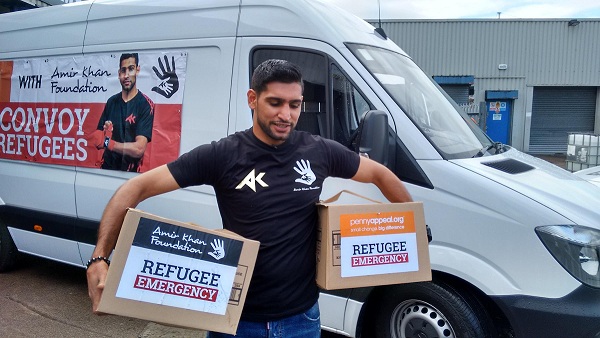 London, 2 Dzulhijjah 1436/16 September 2015 (MINA) – Moved by the disturbing image of the Syrian drowned toddler Aylan Kurdi, British Muslim boxing champ Amir Khan is leading an aid campaign to provide help to Syrian refugees who arrive desperately at Greece shores.
"It was after I saw the pictures of the innocent children, the kids dying on the shore of the sea, parents losing the children," Khan told The Bolton News on Tuesday, September 15. OnIslam.net quoted by Mi'raj Islamic News Agency (MINA) as reporting.
"When I saw that one picture I wanted to read more about it, see what's really going on, and when I read all about it, it did really upset me."
Moved by the picture, the 28-year-old father-of-one world champion decided to act.
Over the past days, he has led a joint campaign with the Penny Appeal and the Amir Khan Foundation to send a convoy of volunteer-driven vans driving from his boxing academy in Bolton, Greater Manchester, to travel the 2,000 miles (3,219km) to Athens.
After Athens, Khan will be travelling to Lesbos on Friday with aid provided by people who donated money towards food, water, hygiene products, sanitation and shelter.
"That's the reason I got my team together – the Amir Khan Foundation and also the Penny Appeal and said 'Let's do something for these people, these people need our help'.
"Having a child myself and imagine losing her in that way would hurt me and I wanted to do my bit.
"What's even more disturbing is knowing that many more lives will be lost unless we provide urgent aid to these refugees who are isolated and in desperate need," he added.
Khan said that he had been left overwhelmed by the response from members of the public.
"I thought I would maybe get about two or three vans full. It's been so good I've got seven vans full and people are still dropping off aid now."
Some 350,000 migrants have made the perilous journey to reach Europe's shores since January this year, according to figures released by the International Organization for Migration (IOM) on Tuesday.
The IOM said more than 2,600 migrants had drowned trying to cross the Mediterranean in the same period.
A photo of the Syrian toddler Aylan Kurdi lying face down on the beach, after he and his family drowned, has sparked worldwide cry over this week.
Awareness
Leading the convoy himself, he hopes to be able to raise awareness and "show the world what is really happening," a difficult task as he puts it.
"It's going to be tough. It's going to be hard, being a father myself and having a family myself, to see the things," Khan said.
"It's going to be a massive challenge for me and it's only going to motivate me and inspire me to do more charity work. It is going to be a sad time as well. It will be nice in a way to put a smile on their face and that's what I really want to do."
Setting role model for many, he urged others to show their support.
"I hope this only motivates other people into getting involved and giving to charity and showing their support.
"Please show your support to innocent people who need our help, people who rely on us, people who are landing at the refugee camp with no food, no water. There are innocent children who are dying per day. We don't want that to happen."
Adeem Younis, chair of trustees at Penny Appeal, shared a similar opinion.
"Every day, refugees arrive on the shores of Europe after surviving a horrendous journey with nothing more than the clothes they are wearing," Younis said.
"The items we can provide will make a real difference, giving people hope as they take the first step on the path towards safer lives." (T/P007/R03)
Mi'raj Islamic News Agency (MINA)