UN SUPPORTS EQUAL RIGHTS FOR ROHINGYA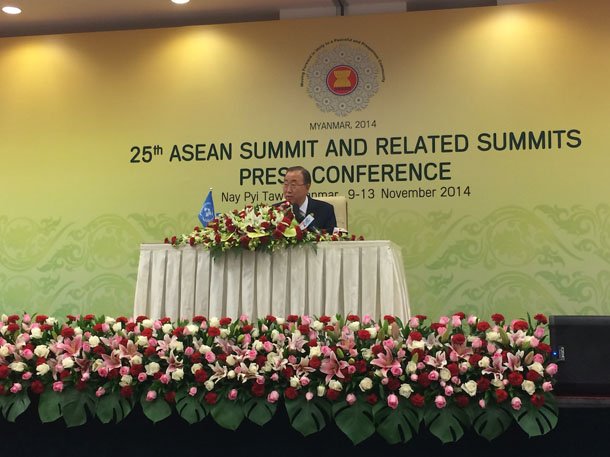 Naypyitaw, 21 Muharam 1435/14 November 2014 (MINA) – UN Secreatry General, Ban Ki-Mon stated on Thursday amid a meeting with a selected group of local reporters at the 25th ASEAN Summit at Naypyitaw that "both communities in Arakan State have suffered violations of their rights," clarifying that "the UN is concerned about the well being of all peoples."
Moreover, he said that it is time to alleviate the fears of the two communities by that I mean both the Rakhine community and what you call the Rohingyas or Bengalis, and to address their grievances and uphold their human rights. Burma Times quoted by Mi'raj Islamic News Agency (MINA) as reporting.
Regarding the controversial citizenship verification process for Rohingya "Rakhine Action Plan", Ban expressed that he is absolutely confident at the Burmese government's plan for Arakan state that all communities can be able to stay in safe, dignified and hopeful future adding that "The UN stands ready to help in these efforts."
Ban absolutely forgot that "if the Rakhine action plan is implemented, tens of thousands of Rohingya face indefinite detention and eventual expulsion from Burma once they fail to meet stringent requirements qualifying them for Burmese citizenship,".
According to a draft of the plan obtained by Reuters in September, the government has proposed that authorities "construct temporary camps in required numbers for those who refuse to be registered and those without adequate documents,".
The plan violates "universal rights" and challenges Myanmar's reform efforts, said U.S. deputy national security adviser for strategic communications Ben Rhodes.
According to Reuters, on Wednesday, U.N. Secretary General Ban Ki-moon told the Myanmar government on Wednesday he is concerned about the welfare of the country's Rohingya Muslims and asked officials to ensure access for UN agencies delivering humanitarian assistance to them.
He urged Burma's government to take a firm stance against the persecution of minorities, and to review rules and procedures – such as the ongoing citizenship verification programme in Arakan State – that are not in line with international best practices.
"I expressed my concern about the Rohingya population who face discrimination and violence," Ban Ki-moon told reporters after his meeting. "I am urging that the human rights and human dignity of people in Rakhine State should be respected,". (T/P006/R03)
Mi'raj Islamic News Agency (MINA)