Southeast Asian Scholars Call for ASEAN to Concern on Kashmir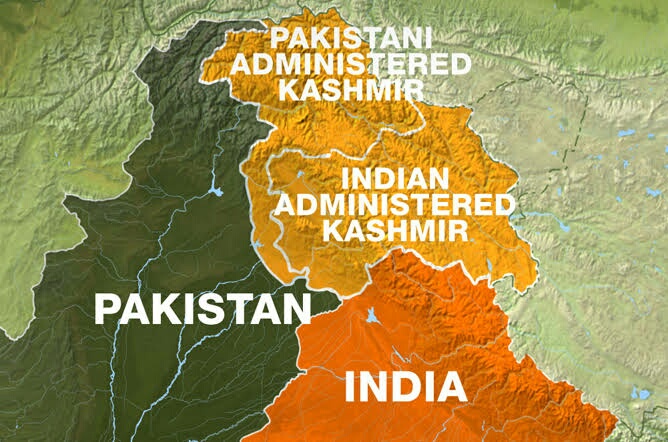 Maps of India and Pakistan (photo: special)
Kashmir, MINA – Scholars of Southeast Asia (Indonesia, Malaysia, Brunei, Thailand, Cambodia) call on the leaders of ASEAN countries to take action to overcome the crisis currently engulfing Kashmir, Pakistan.
"We are concerned about the situation faced by Kashmiris who are now in Jammu and Kashmir the Indian-controlled," a Southeast Asian Ulama statement said in a press release received by MINA on Thursday, November 7.
The injustice and brutal military actions by the Indian troops estimated to be 700,000 is a clear evidence as far as democracy is concern Kashmiris are denied of any human rights and right to live.
The scholars also lamented that almost every aspect of normal living in Kashmir are currently disrupted : safety of children going to schools not secured , families unable to buy daily needs, jobs to earn a living are made to be very difficult, almost all operation of shops halted and bussinesses come to a stand still , normal functioning of hospitals hampered , classes of universities suspended, mosues closed for Jumat prayers and communication lines are cut off.
In addition, they also regret the silence of world leaders on this issue.
"We conclude that India is literally imposing a collective punitive slow death on the Kashmiris. The lockdown is mercilless and inhuman," they added.
Earlier, representative of Indonesian scholar, Yakhsyallah Mansur explained the representatives of scholars of Southeast Asia (ASEAN) visited Kashmir at the invitation of the Pakistani government in order to be asked for advice to overcome the crisis that is currently sweeping Kashmir.
Yaksyallah said the group of ASEAN scholars was in Pakistan for five days from 4 to 8 November. They are scheduled to hold meetings and discuss with the Pakistani Parliament, the Ministry of Foreign Affairs, and representatives of NGOs and scholars Azad Jammu. They are also scheduled to visit several regions in Kashmir.
In addition to the scholar, the meeting also involved members of Parliament and Public Advocates from 5 ASEAN Countries and it recommended 15 "Follow up Action Plan : Asean for Kashmir", namely:
1. Establishing Asean Advocacy Network for Kashmir.
2. Creating a permanent link with Pakistan National Assembly Committee on Kashmir.
3. Prepare Report and recommendation on Asean Visit and submit to PM/President of each country
4. Briefing session for MPs in each country on Kashmir.
5. Special visit to Presiden of Indonesia and mobilizing Ngos on Kashmir.
6. Special Briefing Session for Ngos in each country on Kashmir.
7. Plan for an Asean Seminar on Kashmir
8. Prepare an Asean Memorandum on Kashmir to be endorse by as many MPs and NGos
9. Distribute summary of UNHR report to all MPs in Asean.
10. Establish an "All Asean Women for Justice in Kashmir" (AAWJK) to advocate for protection of women and children.
11. Observing Kashmir Black Day in all Asean Parliment.
12. Mobilizing the almost 700,000 mosque in the 10 Asean countries.
13. Organize the Friends of Kashmir in all Asean Parliaments.
14. Reaching out to all national and international media to cover news on Kashmir.
15. Organize an Asean Media Visit to Jammu Kashmir. (T/Sj/R04)
Mi'raj News Agency (MINA)