Russian Ambassador Confirms Putin to Visit Indonesia After 2019 Election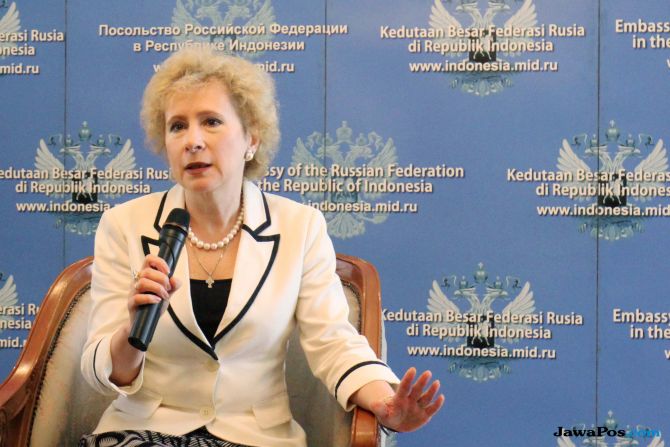 Jakarta, MINA — Russian Ambassador to Indonesia Lyudmila Vorobieva confirmed that President Vladimir Putin will conduct a state visit after the simultaneous elections are held in Indonesia in April 2019, Antara News reported.
"Our bilateral relations are very positive in various contexts during this year. Although we have not succeeded in arranging our president`s visit due to technical problems, I hope that next year, the visit would be conducted, of course, after the election," Vorobieva stated at a year-end event at the Russian Embassy here, Tuesday.
Vorobieva said she fully understood the stance of the Indonesian government and people to give more attention on realizing safe and peaceful elections, so President Putin is scheduled to visit after the national event is completed.
"We respect the democratic process in Indonesia and will support whatever the Indonesian people choose," the ambassador affirmed.
Although she has not specified the exact date of Putin`s visit to Indonesia, Vorobieva noted that the Russian president was certain to visit Indonesia in 2019, with an agenda that has been prepared by both parties.
"We have a solid agenda, one of the most important of which is the signing of the Russia-Indonesia strategic partnership agreement," Vorobieva stated.
The framework of the Indonesia-Russia strategic partnership agreement was discussed after Russian Foreign Minister Sergei Lavrov had visited Jakarta in 2017 and his Indonesian counterpart Retno Marsudi paid a return visit to Moscow in March 2018.
According to Vorobieva, President Putins presence in Indonesia will further emphasize Indonesias importance for Russia, especially in the field of trade in which the value had reached US$3.2 billion in 2017, an increase of 25 percent from that in the previous year.
Indonesia is also awaiting the delivery of 11 Sukhoi SU-35 fighters from Russia, which according to the contract will be carried out in 2019.
"I can stress no more that Indonesia is an important country for Russia, especially after Russia and the ASEAN become strategic partners, which was agreed at the ASEAN-Russia Summit in Singapore in November 2018, and Indonesia is a key country in the ASEAN," Ambassador Vorobieva stated.     (T/RS5/RS1)
Mi''raj Islamic News Agency (MINA)