THE US REJECTS NETANYAHU'S COMPARISON OF IRAN AND HAMAS TO ISIS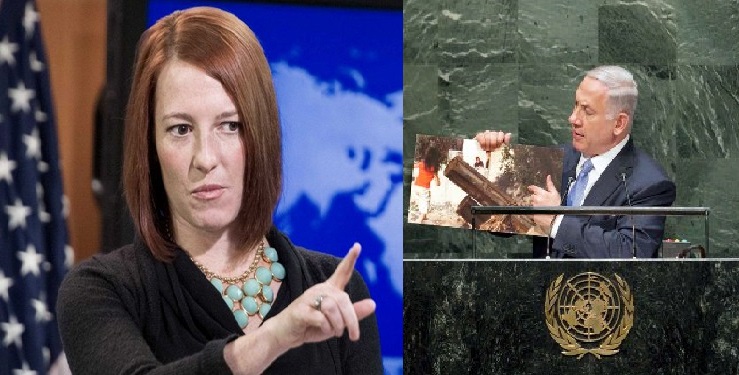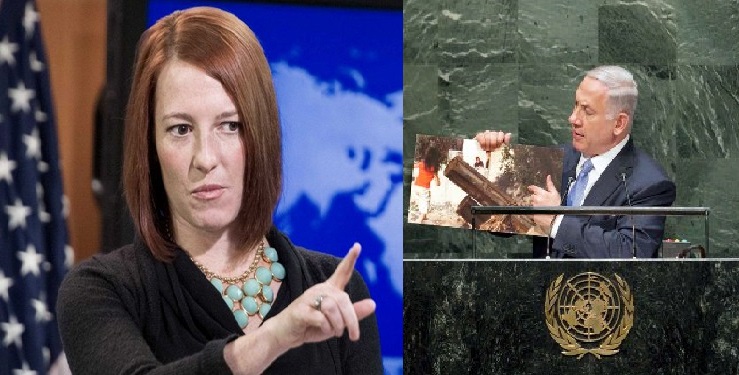 Washington, 8 Dzulhijjah 1435/1 October 2014 (MINA) – The US has rejected Israeli Prime Minister Benjamin Netanyahu's comparison of Iran and the Islamic Resistance Movement (Hamas) to the Islamic State (ISIS) yesterday, as well as his sharp criticism of the UN Human Rights Council.
Speaking before the 69th session of the UN General Assembly in New York yesterday, Netanyahu accused Iran, Lebanon's Hezbollah, and Hamas of terrorism, according to the Middle East Monitor (MEMO) report monitored by Mi'raj Islamic News Agency (MINA).
US State Department spokeswoman Jen Psaki said: "Obviously, we've designated both as terrorist organisations, but ISIS poses a different threat to Western interests and to the United States, based on, of course, the military action and other efforts that are underway," in reference to the threats made by ISIS to launch attacks inside the US and its attempts to recruit militants with foreign citizenship.
Psaki added: "We don't believe that Prime Minister Netanyahu or anyone else from Israel is suggesting that the United States launch a military campaign against Hamas."
Since August 8 an US-led international alliance consisting of Western and Arab countries has been launching airstrikes against ISIS targets in Syria and Iraq as a part of the war on ISIS, which has taken control of large areas in both countries. In June, ISIS announced the establishment of what it called the "Caliphate state" and named its leader Abu Bakr Al-Baghdadi as the "Caliph of the Muslims".
In his speech, Netanyahu said: "ISIS and Hamas are branches of the same poisonous tree," adding that "Hamas is the other face of ISIS, Hezbollah is no different than Boko Haram in Nigeria, and Iran is working on exporting its revolution to the whole world and raising concerns."
Psaki rejected Netanyahu's comparison of Iran to ISIS. She also noted that the US disagrees with Netanyahu's characterisation of the UN Human Rights Council as "the terrorists' rights council", saying: "We have obviously voiced concerns when we have them about actions that are taken, but no, we would certainly not agree with that characterisation."
Netanyahu sharply criticised the UN Human Rights Council, saying: "By investigating Israel rather than Hamas for war crimes, the Human Rights Council is thus sending a clear message to terrorists everywhere: Use civilians as a human shield. Use them again and again and again."
In July 2014, the UN Human Rights Council announced the formation of a fact-finding committee to investigate the violations committed by Israel against civilians in the Gaza Strip, West Bank and Jerusalem. Israel considered this to be biased based on the fact that the committee is not investigating the claims of both sides, according to the Israeli government. (T/P3/R01)
Mi'raj Islamic News Agency (MINA)