President Says High Electricity Prices Due To Unnecessary Costs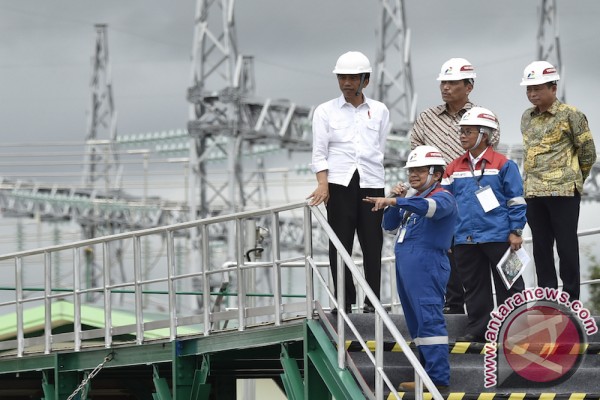 Indonesia has abundant geothermal potential, says President Jokowi (left).
Minahasa, North Sulawesi, 28 Rabiul Awwal 1438/28 Desember 2016 (MINA) – President Joko Widodo, popularly by his nickname  Jokowi, revealed on Tuesday that the price of electricity in Indonesia was higher compared to other countries because power companies were saddled with unnecessary costs.
"Our electricity is expensive because players are burdened by too many unnecessary costs," the president said when inaugurating a geothermal power plant (PLTP) in Tomposo, Minahasa, on Tuesday.
He was inaugurating Lahendong PLTP, Unit 5 and 6 and Ulubelu PLTP, Unit 3, which is located in Lampung.
Jokowi said the price of electricity was also high because there were too many brokers involved in one project. "There are too many people who become brokers," he said.
He said that in many countries the price of electricity was lower and electricity management was efficient.
"Why can they do that while we cannot? There must be something wrong," the president stressed.
He also expressed concern over the fact that many districts/municipal cities in the country still often face power outages.
Electricity concerns competitive edge; it has to meet the peoples and industrial needs so that it should not be more expensive than in other countries, he stated.
"In Serawak, Malaysia, the price of a hydro power plants (PLTAs) electricity is only two cents while in Indonesia it is seven cents.
"Electricity from a solar power plant in the United Arab Emirates is only 2.9 cents while in Indonesia it is 14 cents although we are rich in abundant water resources and rivers," he said.
He said if large rivers such as the Mahakam, the Musi, and the Bengawan Solo can be utilized to produce electricity, which could be offered at 2 cents, then Indonesias competitiveness will rise.
"Why are there middlemen between state-owned enterprises? Why should there be middlemen between the private company and the state-owned electricity firm PLN? What are they for? Our country needs efficiency in all sectors or else it will be left behind in the competition era," Jokowi noted. (T/RS05/RS01)
Mi'raj Islamic News Agency (MINA)