Philippines to Verify Presence of 1,200 IS Fighters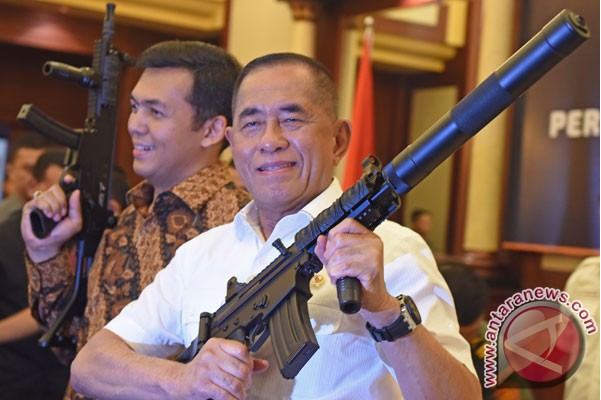 Defense Minister Ryacudu said that there are about 1,200 ISIS sympathizers in the Philippines, 40 of whom are from Indonesia.
Maanila, 11 Ramadan 1438/6 June 2017 (MINA) – The Philippine government is verifying the alleged presence of about 1,200 Islamic State (IS) operatives in the country as reported by Indonesia's defense minister in Singapore.
Brig. Gen. Restituto Padilla, spokesman for the Armed Forces of the Philippines (AFP), on Monday admitted that the military has no idea on the number of foreign fighters helping local militants amid ongoing operations against members of the Maute Group in Marawi City.
"The revelation of the Indonesian Defense Minister is something that came as a surprise to us because in truth, we don't have those numbers," Padilla was quoted by The Manila Times as telling reporters.
Indonesian Defense Minister General Ryamizard Ryacudu told an international security forum in Singapore on Sunday that there are about 1,200 ISIS sympathizers in the Philippines, 40 of whom are from Indonesia.
Padilla said the military is yet to obtain "specific" grounds to verify the report. He said ground commanders had reported that there are only about 50 foreign terrorists spotted in Marawi City.
He said the Philippine government will ask Indonesia where it got the information on the purported presence of foreign Islamist extremists.
"This needs to be subjected to inquiry on the other side, kung saan nakuha ng [to know where]Indonesia [got the information]. So we may address this because we have networks with the nations who are fighting against terrorism. We have diplomatic relations with Indonesia. We have military relations with their armed forces," Padilla said.
"So we will reach out, we will inquire, the possible sources of this information and how they may have come across it. Because for all we know, this may prove helpful in our campaign against all these terrorists or these criminals," he added.
Presidential spokesman Ernesto Abella said that while the Palace cannot comment on the exact number of ISIS fighters in the country, "it is clear that the violence in Marawi is being waged by both Philippine and international criminals."
"The southern part of Mindanao has long been used as a refuge by fugitives from justice, from Indonesia, Malaysia, and other locations," he said.
The Palace official added that this is why regional and global anti-crime efforts should be bolstered.
"Criminals and rebels do not respect national boundaries. They are a challenge for our region and for the international community and our government is committed to doing our part to bring these people to justice, as part of the global war on terrorism, extremist efforts, and our own effort to promote peace and order in the Philippines," he said.
Coming from Malaysia, Indonesia, Yemen and Chechnya
Last week, the government announced that among those killed in the Marawi City clashes were eight foreign fighters who supposedly came from Malaysia, Indonesia, Yemen and Chechnya.
Col. Edgard Arevalo, head of the AFP Public Affairs Office, said it is possible that the 1,200 include "local terrorists."
"We don't have the specific number with the exact picture but we are looking somewhere in between 30 [to]35 of foreign terrorists based on the information and reports we received," he added.
"Whether these are armed terrorist groups, regular terrorist themselves and their supporters and sympathizers, our objective will always pursue, to end the conflict so they can no longer pose any threat in our country," Arevalo said. (T/RS5/RS1)
Mi'raj Islamic News Agency (MINA)