Palestinians in Jerusalem Close Their Shops to Avoid Heavy Israeli Municipal Taxes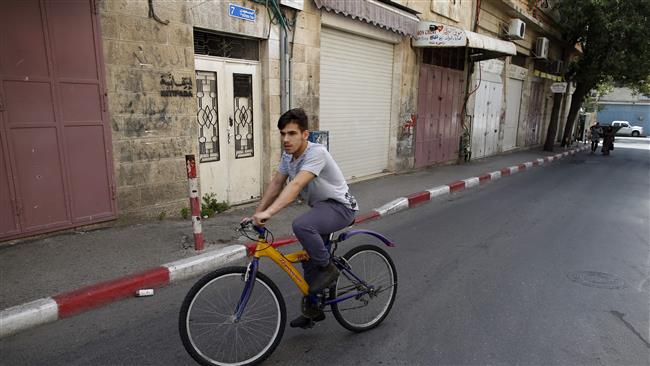 A man cycles past closed shops in the Old City of Jerusalem al-Quds .
Jerusalem, MINA – Palestinian store owners in Jerusalem's Old City Monday closed their businesses for fear of receiving high Israeli municipal taxes.
WAFA correspondent said Joint taxes crews from the Jerusalem Municipality escorted by Israeli forces raided the shops in al-Wad street and Bab Khan al-Zeit area in the Old City of Jerusalem to pressure traders to pay heavy taxes, thus forcing the latter to shut down their shops to avoid such high taxes.
According to director of the Jerusalem Center for Social and Economic Rights, Ziad al-Hammouri, at least 25 percent of the 1,000 Palestinian shops in the Old City were closed in recent years as a result of high municipal taxes and a lack of customers.
Meanwhile, Israeli far-right extremist Rabbi Yehuda Glick, set up an office outside Bab al-Asbat (Gate of Tribes) outside al-Aqsa mosque in Jerusalem in protest of an ongoing ban on Israeli Knesset Members' visits to the mosque.
According to the Times of Israel, the far-right extremist announced in a statement he will move his Knesset bureau to the Gate of Tribes to demonstrate against the ban that Netanyahu applied to all members of parliament a year and a half ago.
This came only three weeks after Israel went back on its decision to install metal detectors and surveillance cameras at the entrances leading to the compound, after thousands of Palestinians, most of whom come from East Jerusalem and Palestinian towns in Israel, gathered outside Bab al-Asbat Gate for two weeks in protest of the Israeli measures.
On a different subject, the Israeli Court extended the detention of Fadwa Hamada and her Husband Mazin Hamada for five days. Fadwa was detained after allegedly carrying out a stabbing attack outside Bab-al Amoud; one of al-Aqsa mosque's gates in the old city. Her husband was detained shortly after and taken for interrogation. (T/RS5/RS1)
Mi'raj Islamic News Agency (MINA)