Palestinians Decry 100-Year-Old Balfour Declaration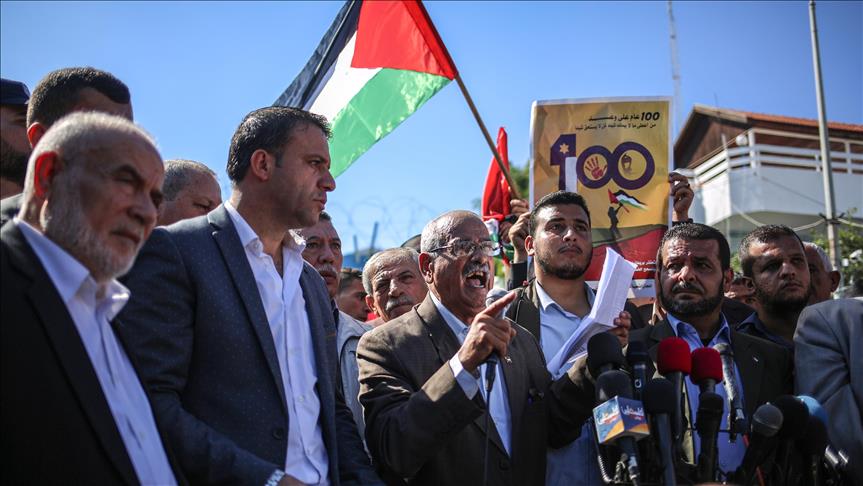 Ramallah, Palestine – Thousands of Palestinians took to the streets across the Israeli-occupied West Bank on Thursday to mark the passage of 100 years since the Balfour Declaration, which laid the groundwork for Israel's establishment — and their displacement — in 1948.
Protest marches were held in the West Bank cities of Ramallah, Nablus, Jenin, Bethlehem, Tubas, Hebron and Jericho.
Thousands of Palestinians waved black and Palestinian flags, along with banners condemning the declaration and calling on the British government to apologize for it.
In Ramallah, Palestinians marched from the tomb of resistance icon Yasser Arafat to the British Cultural Center in the city's center, where they gave a letter to British officials demanding an official apology.
"This letter from the Palestinian people is a clear rejection of Balfour's promise to the Jews — a promise from those who do not own [i.e., Britain] to those who do not deserve [i.e. Israel]," Wasel Abu Youssef, a member of the Palestine Liberation Organization (PLO)'s executive committee, told Anadolu Agency.
"Palestinians demand that Britain apologize for the tragedy it brought down on the Palestinian people as a result of this disastrous promise," he said.
"We also demand that Britain recognize the right of the Palestinian people to their homeland and their right to have an independent state with Jerusalem as its capital," he added.
Abu Youssef went on to say that the Palestinian Authority was in the process of filing a lawsuit against the British government in both British and international courts.
Thousands of black-clad Palestinian children also participated in a protest rally in Ramallah to express their contempt for the fateful declaration.
"We are participating in this march today to deliver a message to the British government that we do not recognize this promise [by Britain] that usurped my land and displaced my people," Samira Khalili, 15, told Anadolu Agency.
"We demand that Britain apologize for the worst crime committed in the modern era," she said.
"We will neither forgive nor forget," she said. "All the Palestinians who suffered from this racist declaration should be compensated and allowed to return to their ancestral homes."
Ahmed Mteir, 10, for his part, told Anadolu Agency: "My family have been refugees for more than 69 years because of this promise."
"I was raised in the Qalandia refugee camp — instead of my hometown of Yafa — because of the Balfour Declaration," he said.
Mteir added: "The only thing me and my family want is to go back home."
In a statement, Palestinian Education Minister Sabri Sidem said: "Britain has committed a grave crime against the Palestinian people and continues to insist on its mistake by celebrating the declaration instead of apologizing for the great injustice it caused."
Legal action
Palestinian Foreign Minister Riyad al-Malki, for his part, announced Thursday that the Palestinian government was planning to bring legal action against Britain for its decision to celebrate the declaration's centennial.
"The Palestinian government has made every effort to persuade its British counterpart to reverse its decision," al-Malki said in a statement.
"Soon we will task a British law firm with pursuing legal procedures — as soon as possible — in this regard," he added.
This, the foreign minister said, was aimed at "achieving justice for the Palestinian people and obliging the British government to pay compensation and recognize the State of Palestine".
He added: "We also encourage Palestinians who have been affected by the Balfour Declaration to follow suit and file similar lawsuits."
PLO Secretary-General Saeb Erekat, meanwhile, described Britain's planned celebrations as "shameful".
"Instead of celebrating, Britain should take the opportunity to rectify its historical mistake and apologize to the people of Palestine, pay compensation, recognize Palestine and hold Israel accountable for its crimes," he said.
"My people are deeply rooted to their homeland," he added, "where their ancestors lived for thousands of years." (T/RS5/RS1)
Mi'raj Islamic News Agency (MINA)