Palestinian Shot Dead, 3 Israeli Soldiers Injured in Suspected Car Ramming Attack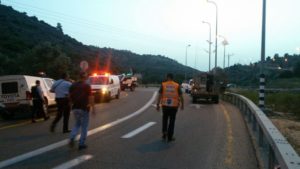 Bethlehem, 26 Rajab 1437/04 May 2016 (MINA) – A Palestinian was shot and killed and three Israeli soldiers were injured after a suspected car ramming attack occurred at a junction near the illegal Israeli settlement of Dolev northwest of Ramallah in the central occupied West Bank.
According to an Israeli army spokesperson, the driver rammed a car into three Israeli soldiers at the junction, and the driver was later shot.
Witnesses told Ma'an a Palestinian was quickly driving a mid-sized truck on a road between the villages of Beitunia and Ein Arik and hit three Israeli soldiers with his vehicle while they were crossing the street. The witnesses said it appeared the driver hit the soldiers by accident.
The driver fled the scene "fearing for his life," witnesses said. Israeli forces chased him and a separate unit erected a barrier further down the road.
Israel soldiers at the checkpoint fired several rounds at the driver, then they pulled him out of the truck and fired at him again, witnesses said.
Witnesses added that Israeli forces prevented Palestinian Red Crescent ambulances from accessing the scene to treat the driver, and he was left bleeding from several bullet wounds until he died. His body was later transferred to an unknown location.
The driver was identified as Ahmed Riyad Abd al-Aziz Shehada, 36, from the Qalandiya refugee camp in the Ramallah district.
According to Israel's emergency medical services, one of the Israeli soldiers was injured severely, and two moderately. After the incident, they were quickly evacuated to Dolev before a helicopter took them to Jerusalem's Hadassah University Hospital for treatment, Israeli media reported.
Israeli forces have since closed the main road in Ramallah and erected roadblocks in the area, preventing movement in and out of the town, locals said.
The incident comes after an Israeli man was stabbed and moderately wounded in an alleged stab attack in Jerusalem Monday evening. Israeli police detained a young Palestinian suspected of being involved in a stabbing attack later that night.
More than 200 Palestinians and almost 30 Israelis have been killed since the beginning of a wave of violence in October, characterized by a number of small-scale Palestinian attacks and alleged attacks against mainly Israeli military targets.
Since the increase in violence, there have been repeated witness reports of Israeli military preventing Palestinian ambulances from reaching injured or dying Palestinians while Israeli paramedics failed to treat them.
The number of Palestinian and Israeli deaths saw a dramatic drop over the last two months, with the Israeli leadership suggesting its severe security measures are responsible for the emerging trend.
However, the Palestinian Center for Policy and Survey Research found in a poll last month that support for stabbing attacks had seen a decline in the West Bank in recent months — "due, it seems, to a rising perception in its inefficacy." (T/R07/R01)
Mi'raj Islamic News Agency (MINA)