PALESTINIAN FIGHTERS DESTROYS TWO ZIONIST TANKS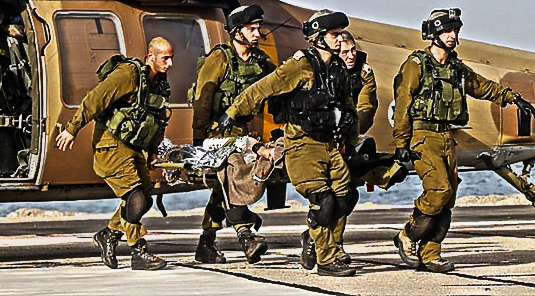 Gaza, 22 Ramadan 1435/20 July  2014 (MINA) – Ezzedeen al-Qassam Brigades, the military wing of the Islamic resistance movement Hamas, on Sunday morning (20/7), managed to destroy at least two Israeli tanks with landmines they had prepared.
Al-Qassam ground operation also resulted  the deaths of 14 Israeli soldiers who tried to enter the Gaza Strip with tanks (armored war vehicles) in Tuffah area, east Gaza city.
The deaths of 14 Israeli soldiers added to the number of victims  from the Israeli military parties to be 29 people during the Israeli military aggression (Protective Edge) -Intifadah Al-Quds- that started since the beginning of Ramadan.
In a press release published by al-Qassam official page and simultaneously broadcast by the media in Gaza, al-Qassam Brigades claimed responsibility for the destruction of two Israeli tanks in the east of Gaza city.
Both tanks were manned 14 Israeli occupation soldiers completely destroyed by land mines that have been placed by Al-Qassam fighters.
"This action embarrassed the Israeli occupation forces with all the fittings armament," said correspondent Mi'raj Islamic News Agency (MINA) in Gaza.
On Saturday, the Al-Qassam Brigades claimed at least 15 Israeli soldiers and one officer were killed and 25 others injured.
Fifteenth Israeli soldiers were killed in a series of Al-Qassam forces attack in several places, including in the southern, central and northern Gaza.
Al-Qassam forces also managed to destroy three military Jeep and seized two M16 type weapons Israeli-owned.
While Israeli  media Haaretz stated that only five Israeli soldiers have been killed since the ceasefire for five hours on Thursday  afternoon in Gaza. (L/K01/Nidiya/P04)
Mi'raj Islamic News Agency (MINA)
Mi'raj Islamic News Agency (MINA)
http://mirajnews.com/palestine/al-qassam-prepare-fourth-million-grenades/