Palestine Solidarity Month, 30 Boats Raise Indonesian-Palestinian Flag on Musi River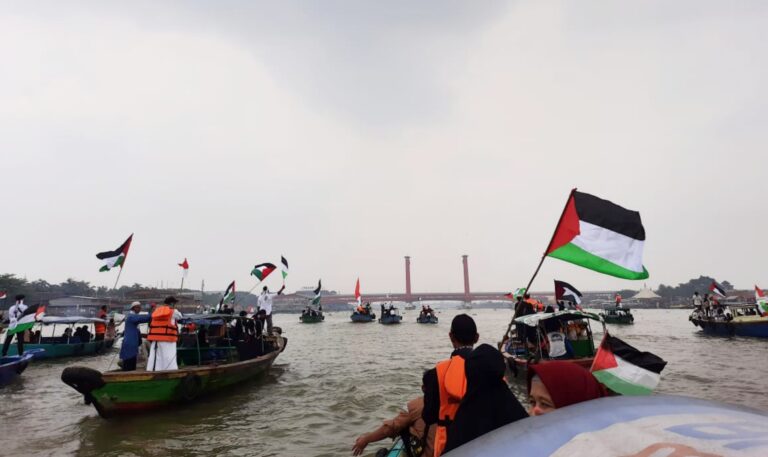 South Sumatra, MINA – Aqsa Working Group (AWG) South Sumatra Bureau celebrated the 2023 Palestine Solidarity Month (BSP) by holding the Indonesian-Palestinian Flag Raising in the waters of the Musi River, Palembang, South Sumatra on Sunday.
Chief Executive, Doni Novrizal, in his speech said that the flag raising activity in the waters of the Musi River was an effort to voice support for the Palestinian people, letting them know that the Palestinians were not fighting alone.
"From this river, we fly the flags of Palestine and Indonesia, so that Palestine knows that we, the people of Palembang, especially care about the struggle of the Palestinian people in efforts to liberate the Al-Aqsa Mosque and fight colonialism," he said.
The raising of the Indonesian and Palestinian flags was lively, carried out by 30 ketek boats, attended by hundreds of people from Palembang and surrounding areas, Ampera visitors, as well as several communities such as Volunteers for the Country (RUN), Escorting Ambulance Palembang, and the Khairunnisa study group.
Doni explained that the activity started from the BKB courtyard to the Musi 6 Bridge, and returned again across the Ampera Bridge as the icon of the city of Palembang, witnessing that the people of Palembang in particular stand with the Palestinian people.
"The location of the Musi River is strategic, in the city center, and Ampera has become an icon of Palembang. By raising it there, our message can be conveyed well to the people on the Musi River, and Palembang residents in general. "At the same time educating the public, that Palembang also cares about the Palestinian struggle in fighting for its independence," he explained.
Meanwhile, before the raising, the Chairman of the AWG South Sumatra Bureau, Ade Jalaluddin, in his delivery said that the Israeli Zionists were getting crazier, various war crimes had been committed and were still being committed against the Palestinians, even their false claims had re-emerged along with their defeat against the Palestinians. Palestinian fighters.
"Recently, they claimed that there was a Hamas tunnel or headquarters under the Indonesian Hospital, so that claim became their excuse to justify attacking the Hospital. "Not only Indonesian hospital, other hospitals in northern Gaza also received such threats," explained he, who is also a Volunteer for the Construction of an Indonesian Hospital in Gaza.
Therefore, he denied this false claim. He explained that as an eyewitness who was directly involved in the construction of the Indonesian hospital, there had never been a tunnel under the Gaza's Indonesian Hospital because the building construction at the Indonesian Hospiyal made it impossible for a tunnel to be dug. (T/RE1/P2)
Mi'raj News Agency (MINA)