Palestine Solidarity Month 2023, AWG-MER-C Ready to Collaborate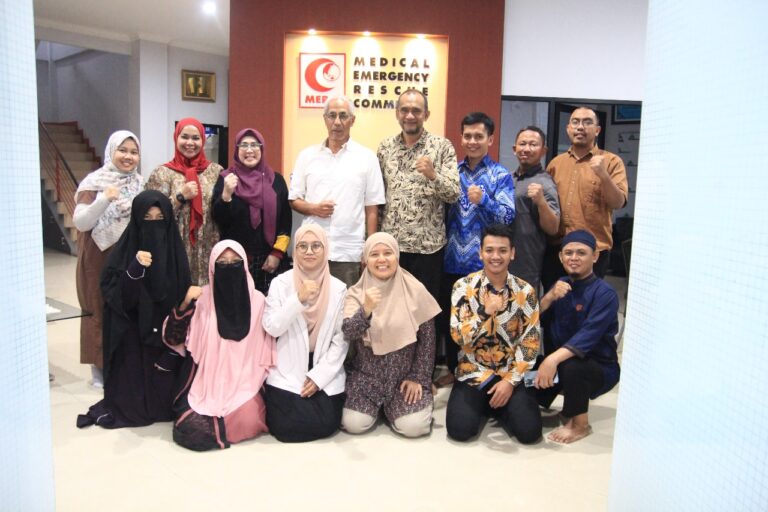 AWG management visited the MER-C office to discuss plans for the 2023 Palestine Solidarity Month. (Photo: AWG)
Jakarta, MINA – The Medical Emergency Rescue Committee (MER-C) is ready to collaborate with the Aqsa Working Group (AWG) to make the 2023 Palestine Solidarity Month (BSP) a success next November
This was conveyed when the AWG held an audience at the MER-C office in Jakarta on Wednesday.
When receiving the audience, Chairman of the MER-C Presidium, dr. Sarbini Abdul Murad said that cooperation between MER-C and AWG is nothing new. These two humanitarian institutions have a harmonious vision and mission, especially in the Palestinian struggle.
"MER-C and AWG are not new friends, we are old allies and friends until today, until tomorrow in our struggle to liberate Palestine from Israel's grip," said Sarbini.
Deputy Chair of the BSP 2023 Committee, Yusuf Maulana, conveyed the aim of the audience, namely inviting MER-C to take part in BSP 2023 activities, especially in the fields of health and social service (baksos).
Yusuf explained that this year's BSP will have social service activities including cardiopulmonary resuscitation (RJP) training, blood donation, mass circumcision and cupping therapy. AWG offers a variety of social service activities so that MER-C as a medical humanitarian institution can be involved in them.
"This activity requires assistance from MER-C so that it can bring benefits, of course. "Because BSP is not just a Palestinian issue, but also related to those around us," said Yusuf.
Sarbini supports the BSP 2023 social service program. He said that a more detailed discussion could be discussed further, including the place and time of implementing the social service.
"This is good. This means more development. "AWG used to hold long marches, now it has developed more (with social services)," he said.
This year's BSP is the third time it has been held consecutively since 2021. BSP 2023 activities will be carried out simultaneously in various regions in Indonesia. This activity will even be held in Gaza, Palestine.
BSP 2023 will be celebrated with various activities, starting from competitions, the Palestine Region, raising the flag on the top of the mountain, Al-Aqsa Love Cycling, as well as seminars.
BSP 2023 will focus on echoing the rejection of the Israeli bill which will divide the Al-Aqsa Mosque between Muslims and Jews. This bill was proposed by Likud party member Amit Halevi, to the Israeli Parliament, Knesset. Even though according to applicable regulations, Muslims are the only ones who have the right to the Al-Aqsa Mosque. (T/RE1/P2)
Mi'raj News Agency (MINA)