Only Way to Defeat IS is to End Civil War in Syria, Obama Says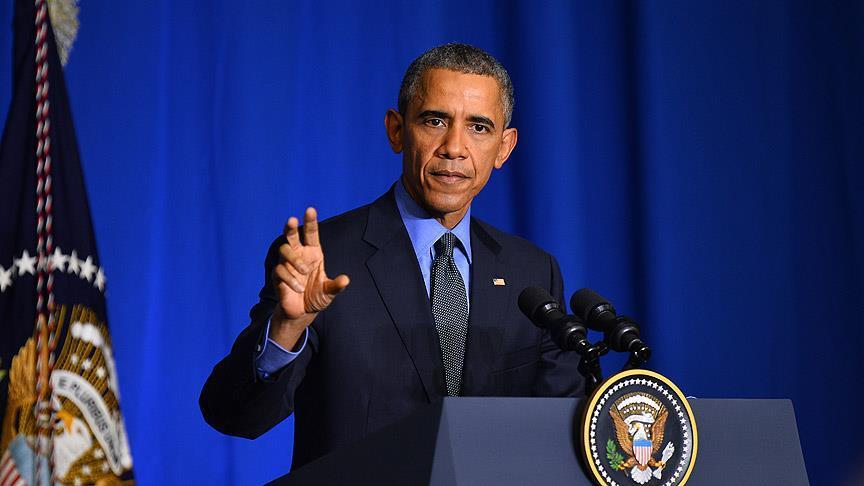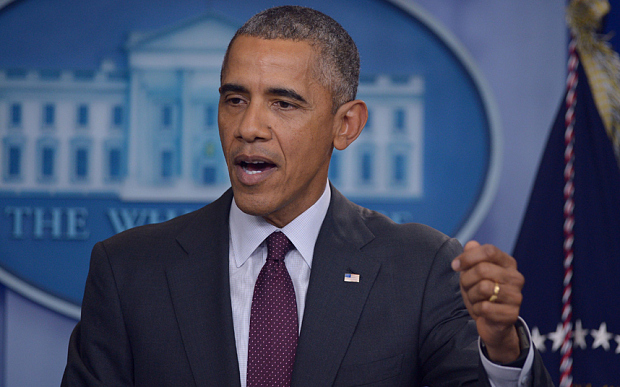 Washington, 18 Jumadal Awwal 1437/26 February 2016 (MINA) – The only way to defeat the so-called Islamic State (IS or ISIL) in a lasting way is to end the chaos and civil war in Syria, President Barack Obama said on Thursday.
"That is how ISIL was able to thrive in the first place," Obama said in remarks at the State Department following a meeting with his National Security Council (NSC) to discuss IS, Mi'raj Islamic News Agency (MINA) reported, quoting KUNA.
"The cessation of hostilities (in Syria) that is scheduled to take effect at midnight tomorrow is a potential step in bringing about an end to the chaos," the President said.
In the best of circumstances, "we do not expect the violence to end immediately," Obama said.
"In fact, I think we are certain that there will continue to be fighting, in part because not only ISIL, but organizations like Al Nusra that is not part of any negotiations and is hostile to the United States, is going to continue to fight."
Obama said he and his NSC team discussed the next phases of the anti-IS campaign in Iraq, including moving against the group in H?, "and the resources needed to retake Anbar Province and Mosul."
At the G7 meeting this spring, Obama said he would continue to work with the international community so Iraq gets the financial support it needs to sustain the campaign, rebuild communities devastated by IS, and pursue "critical economic reforms."
In Syria, a coalition of local forces continues to push IS back, including out of the strategic Tishrin Dam area, the President said.
"Now they are battling ISIL at al-Shaddadi, and they are continuing to squeeze ISIL's stronghold of Raqqa, cutting off highways and supply lines," he said.
"Raqqa is not the capital of a growing caliphate; it is increasingly under stress as ISIL territory shrinks."
Thanks to waves of strikes against its oil infrastructure, tanker trucks, wells and refineries, IS oil production and revenues are significantly reduced, Obama said.
Thanks to the coordination of many nations, including Turkey, the flow of foreign terrorist fighters into Syria finally appears to be slowing, he said.
There are fewer IS fighters on the battlefield in Syria and Iraq, and for those who are there, it is harder for them to recruit and replenish their ranks, he said.
As its finances shrink, ISIL is imposing more taxes and fines on those under its brutal rule, Obama said. That, in turn, stokes even more resentment among local populations, he said.
"More people are realizing that ISIL is not a caliphate, it is a crime ring," Obama said.
"As we showed last week with our strike on an ISIL training camp in Libya, which targeted a senior ISIL operative, we will continue to use the full range of tools to eliminate ISIL threats wherever they are," the President.
Meanwhile, the United States will continue to support the Libyan people as they work to form a new government and regain control of their country, "as we have seen in recent days with Libyans celebrating in the streets as ISIL was driven from parts of Benghazi."
"The fight against ISIL will remain difficult, but we will continue to draw on all elements of our national power — military, intelligence, diplomacy, homeland security, law enforcement and the strength of our communities," Obama said.
"We are in a better position now than we were last month, and a better position last month than we were three months ago," he said.
"We will destroy this barbaric terrorist organization and continue to stand with people across the region who seek a better and safer future."   (R07/R01)
Mi'raj Islamic News Agency (MINA)