Muslim, Arab World Hails Paraguay's Israel Embassy Move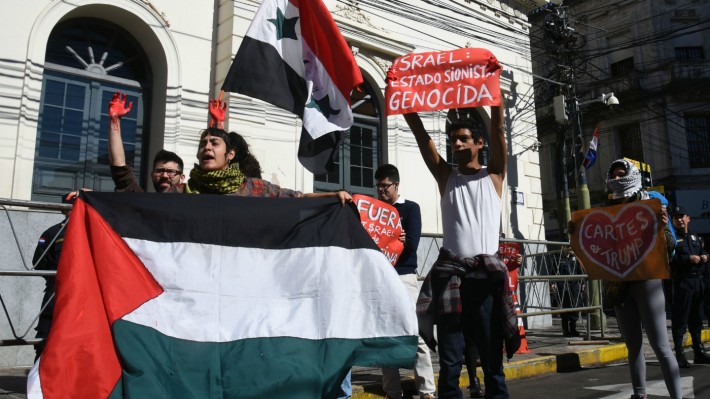 Ankara, MINA — Muslim and Arab states and organizations on Thursday hailed Paraguay's decision this week to relocate its Israel embassy back from Jerusalem to Tel Aviv, Anadolu Agency reportd.
Salim Zanoun, speaker of the Palestinian National Council, said Paraguay's "brave" decision was based on the country's "respect for international law".
He went on to describe the move as "a victory for the Palestinian cause" and a signal of the Latin American country's rejection of Washington's recent decision to move its Israel embassy from Tel Aviv to Jerusalem.
The Lebanese Foreign Ministry also welcomed Paraguay's decision.
In a Thursday statement, the ministry called on all states that have moved their embassies to Jerusalem — or were planning to do so — to reconsider the decision.
The Jeddah-based Organization for Islamic Cooperation (OIC) likewise praised the decision taken by Paraguay.
In a statement, OIC Secretary-General Yousef al-Othaimeen stressed the illegality of "any action that prejudices Jerusalem's legal status".
He called on international capitals to adopt policies "that support the prospects of peace in the Middle East based on a two-state solution".
Should serve as a model for all countries
The Cairo-based Arab League, meanwhile, said that Paraguay's move "reflects the will of the international community" as regards Jerusalem.
Saeed Abu Ali, deputy league secretary-general for Palestine affairs, said the decision "should serve as a model for all countries in the face of Israeli scheming and U.S. pressure".
On Wednesday, Paraguayan Foreign Minister Luis Alberto Castiglioni announced that the country's Israel embassy — which was earlier moved from Tel Aviv to Jerusalem — would be relocated back to the former city.
Israel responded angrily to the move, announcing plans to close its embassy in Paraguayan capital Asuncion.
Palestinian Foreign Minister Riyad al-Maliki, for his part, said that Palestine plans to open its own embassy in Asuncion at the earliest possible date.
In a phone call with his Paraguayan counterpart Luis Alberto Castiglion, Turkish Foreign Minister Mevlut Cavusoglu thanked Paraguay for their decision, saying the move proved the country's commitment to international law.
"Paraguay's decision will contribute to the efforts aiming to bring fair and permanent peace to the Israel-Palestine row," Cavusoglu said, adding that the move would be exemplary for other countries.
On May 21, following the lead of the U.S. and Guatemala, Paraguay announced the relocation of its Israel embassy to Jerusalem, drawing angry reactions from the Arab and Muslim world. (T/RS5/RS1)
Mi'raj Islamic News Agency (MINA)