MALAYSIA MINISTER LEADS BOYCOTT OF WESTERN COMPANIES SUPPORTING ISRAEL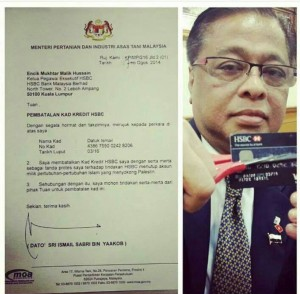 Kuala Lumpur, 19 Shawwal 1435/15 August 2014 (MINA) – Malaysia Minister of Agriculture Ismail Sabri bin Yaakob, Thursday announced that he would boycott HSBC Bank by canceling his credit card in response to a policy of closing the pro-Palestinian activists accounts in the UK.
Mi'raj Islamic News Agency (MINA)'s correspondent in Malaysia reported, through the ministry official letter, Ismail Sabri asked HSBC Bank to close his account and credit card.
The Ministers also uploaded a photo showing  he was cutting the HSBC credit card and his cancellation letter to the CEO of the bank on his official facebook page.
" HSBC bank has closed accounts belongs to an Islamic organization that supports Palestinians. So, I took the decision to cancel my account and credit card with HSBC," said Ismail Sabri.
Last Thursday, HSBC Bank has written to the Finsbury Park mosque and other Muslim organizations in UK informing them that their account in the bank will be closed.
Meanwhile, the former Malaysian Prime Minister Mahathir Mohamad,  delivering his speech in the event of dispatching  Malaysian volunteers to Gaza Wednesday afternoon, said that the Palestinian issue will not be finished until USA and UK stop their supports to Zionist Israel.
MINA's Correspondent reported, Malaysia has sent 40 tons of food, and medicine to Gaza residents who are suffering from Israeli occupation regime forces aggression that resulted in thousands of Gazans martyred and wounded.
Boycott Actions Spreads
Malaysian organizations supporting Palestine announced " Month of Ummah's Wrath " by campaigning for boycott of products from USA and the UK which support Zionist Israel occupation in Palestine. They also called on all member countries of ASEAN to boycott all products and services related to Zionist Israel.
Month of Ummah's Wrath was launched last Sunday by Malaysian NGOs in supporting Palestinians in Gaza who are invaded since July 8 by Zionist Israeli regime forces.
The campaign is conducted peacefully. They did it by bringing posters on the side of roads informing all people who pass them to do boycott Israel and western companies supporting Israeli occupation regime as solidarity to Palestinians.
The boycotted products are fast food American restaurants such as McDonald and the other products of the companies supporting Israel like  Starbucks coffee, Cocacola, and HSBC bank and Nestlé company.  (L/Dushob/P02/P04/E01)
Mi'raj Islamic News Agency (MINA)