Kalla Receives Iranian Counterpart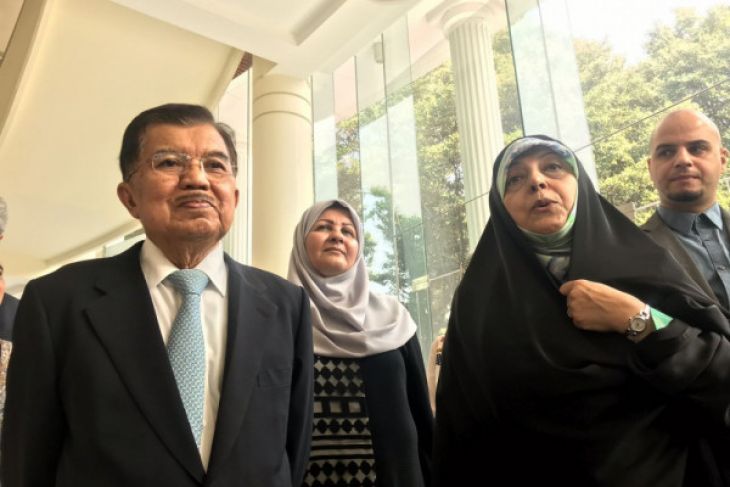 Jakarta,MINA — Indonesian Vice President, Jusuf Kalla, received his counterpart, Iranian vice president for Women and Family Affairs, Masoumeh Ebtekar, at the Vice President`s Office here on Wednesday, Antara News reported.
The two vice presidents, in general, discussed the strengthening of bilateral cooperation between Indonesia and Iran, especially with regard to Iran`s request to Indonesia for support over the development of Iran`s nuclear agreement or Joint Comprehensive Plan of Action (JCPOA).
"I come to Indonesia, as President Hassan Rouhani`s envoy to President Joko Widodo, to discuss the latest developments in the world nuclear deal, especially regarding US withdrawal," Ebtekar stated, after meeting Kalla at the Vice President`s Office, on Wednesday.
During the meeting, Ebtekar conveyed a long history of cooperation between Indonesia and Iran in various ways and expressed hope that Indonesia would remain in a position to support Iran`s nuclear deal.
"Various efforts should be made to defend this nuclear non-proliferation treaty, where the international agreement is based on the UN Human Rights Council to protect the peace and security of the world today," he explained.
In addition, Ebtekar`s visit to Indonesia is also intended to improve bilateral ties between Iran and Indonesia, among others, in the fields of women`s empowerment, trade, economy, and oil and gas.
Earlier, Rouhani had threatened to reduce cooperation with the UN nuclear watchdog, following the withdrawal of US President Donald Trump from Iran`s nuclear deal JCPOA.
"Iran`s nuclear activities are always aimed at peaceful purposes, but it is Iran who will decide on the level of cooperation that it will provide with the IAEA," IRNA quoted Rouhani as saying.
Rouhani blamed Trump for the US withdrawal from the nuclear deal, leading to the complicated situation. If Iran would not benefit from a nuclear deal after the US withdraws from the deal, then Rouhani will make a new decision. .. (T/RS5/RS1)
Mi'raj Islamic News Agency (MINA)