JORDANIAN KING, ABBAS DISCUSS EFFORTS KICKSTART PALESTINIAN, ISRAEL PEACE PROCESS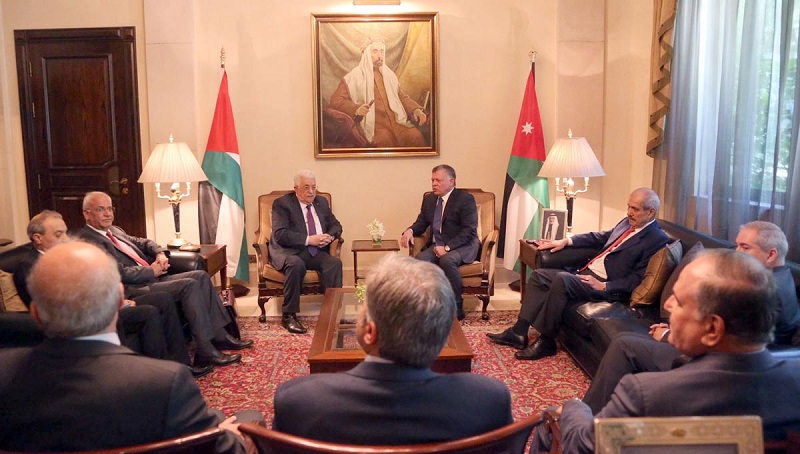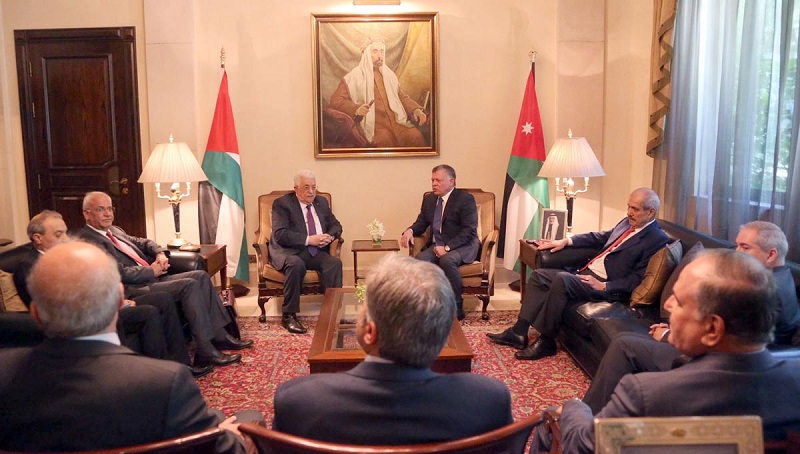 Amman, 16 Dhulqa'dah 1436/31  August 2015 (MINA) –  Jordanian King Abdullah met here on Sunday (30/8) Palestinian President Mahmoud Abbas to discuss efforts to kickstart the stalled Palestinian-Israeli negotiation process and pledged to pursue Jordan's role towards that end, Petra reported.
During the Royal Court meeting, which attended by senior Jordanian and Palestinian officials, Abdullah pledged that Jordan will continue in its endeavours, in coordination with the regional and international parties concerned, to remove hurdles blocking the resumption of peace talks based on the two-state solution.
In addition, The King assured the Palestinian leader that Jordan will stand with all its capabilities and resources beside the Palestinian people  in a manner to boost their cohesion and national unity, according to International Islamic News Agency (IINA) reports as received by Mi'raj Islamic News Agency(MINA).
The King reiterated Jordan's full rejection of unilateral Israeli actions and recurrent assaults against holy shrines in Jerusalem, stressing that the Kingdom, as a custodian of the sacred places in the city, will continue the role of protecting Islamic and Christian holy shrines and safeguarding the occupied city's Arab identity.
From his side, Abbas briefed the King on his recent meetings with various leaders in the region and the world in his bid to push for reviving peace talks "in a way to fulfill the legitimate aspirations of the Palestinian people". He thanked the King for Jordan's support of the Palestinian cause in international forums.
Abbas told Petra after the meeting that talks with the King were part of the joint coordination with Jordan, and had tackled the ongoing Israeli measures in Jerusalem and the dangers they posed to the city as well as the King's role to defend the holy places.
"The meeting with the King is within the framework of the continuing communication and joint coordination between the two leaderships towards different Arab, regional and international issues, particularly after the King recent visit to Moscow, and before an upcoming visit to the United
Nations, in addition to the internal Palestinian situation, and in a way to enhance the two countries' vision vis-a-vis these issues", Abbas said. (T/Imt/R04)
Mi'raj Islamic News Agency (MINA)