ISRAELI SETTLERS TORCH PALESTINIAN HOME NEAR RAMALLAH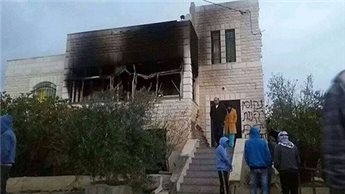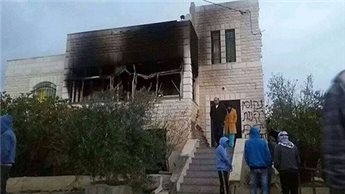 Ramallah, 30 Muharam 1436/23 November 2014 (MINA) –  Israeli settlers set fire to a Palestinian home northeast of Ramallah early Sunday, an official told Ma'an.
Ghassan Daghlas, a Palestinian official who monitors settler activity in the northern West Bank, told Ma'an that a group of extremist settlers raided the village of Khirbet Abu Falah and torched the home of Abd al-Karim Hussein Hamayil, the media quoted by Mi'raj Islamic News Agency (MINA) as reporting.
The settlers threw a fire bomb into the house through a window before fleeing the scene, Daghlas said.
He said Hamayil's widow and her three daughters were inside the house at the time of the attack.
A number of rooms were torched, but no injuries were reported.
The settlers also spray-painted "death to Arabs" and "vengeance" on the house in Hebrew.
Daghlas added that the settlers first attacked the house with tear gas and stun grenades before attempting to break in, without providing further details.
Israeli police said forensic investigators and members of the nationalistic crime unit were at the scene.
"It is a two-story house and the fire caused major damage to the ground floor," spokeswoman Luba Samri said.
The hate crime attack comes amid heavy tensions across the West Bank and Israel, following a spate of violence in Jerusalem and a wave of tit-for-tat attacks between Israelis and Palestinians.
In mid-October, settlers torched a mosque in the village of Aqraba in the Nablus district and vandalized the interior with racist slogans.
Settler attacks on Palestinians and their property are common, but are regularly prosecuted by Israeli authorities.(T/R04/R03)
Mi'raj Islamic News Agency (MINA)