Israeli Plane Strikes Kite Fyers in Gaza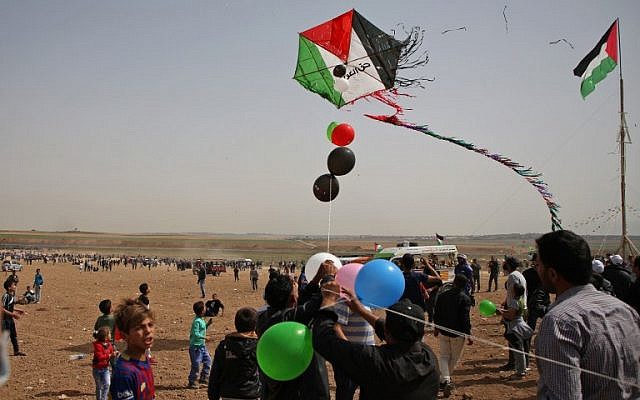 Gaza City, MINA — An Israeli warplane on Sunday struck a group of Palestinians trying to fly incendiary kites and balloons near border of the Gaza Strip.
The attack targeted a group of kite flyers in the eastern city of Deir al-Balah, according to an Anadolu Agency correspondent in the area.
No casualties were reported.
The attack came shortly after an Israeli plane shelled a farmland in the northern Gaza Strip
An Israeli military spokesman confirmed the attack, saying the airstrike targeted a Hamas squad that was allegedly launching arson balloons from the northern Gaza Strip into Israel.
The airstrikes came shortly after Israel and Palestinian resistance factions reached an Egyptian-sponsored cease-fire deal to calm tension in the Gaza Strip.
In recent weeks, Palestinian activists have been flying flaming kites and balloons over Israeli territory as part of ongoing anti-occupation protests along Gaza border.
Since March, more than 130 people have been martyred and thousands more injured by Israeli army fire during the protests against the decades-long Israeli occupation and 11-year blockade on the Gaza Strip, which has gutted the coastal enclave's economy and deprived its roughly 2 million inhabitants of basic commodities. (T/RS5/RS1)
Mi'raj Islamic News Agency (MINA)