ISRAELI OCCUPATION DRONE KILLS PEDDLER IN GAZA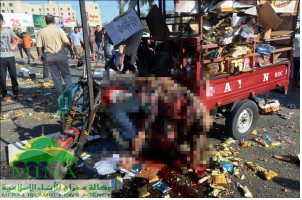 Gaza, 11 Ramadan 1435/9 July 2014 (MINA) – Israeli occupation drone fired its missile against a young peddler who was doing routine activities in Bayt Lahiya, northern Gaza on Tuesday, approximately 150 meters from Indonesia Hospital.
The peddler's name is Bakr Ajur. He died instantly with his body parts strewn over his tricycle (tuk tuk), Mi'raj Islamic News Agency (MINA) correspondent who was not far from the location immediately found it. The victim was in miserable conditions.
"We were on our way home from Asr prayer when Israeli occupation drone missiles hit the area within less than 100 meters from our car. The victim is a snack food distributor who used to be around the area," said MINA's correspondent Nur Ikhwan Abadi.
Dozens of of people evacuated the victim's body immediately following the roar of two ambulances that came shortly after the explosion.
The northern part of the Gaza Strip is an area that is exposed to a greater intensity of attacks. Zionist Israel has beenm continuously bombarding the area since last three weeks.
Up to now, the Palestine Ministry of Health said 13 people had died and 90 others were wounded in the latest Israeli air strikes since early Tuesday. The Zionist bombs have been landing in several parts of Gaza and often shaking Indonesian hospital building. Right now, there are 19 Indonesian volunteers who are staying in the building.
(L/K01/K02/P03/P04/E01)
Mi'raj Islamic News Agency (MINA)