Israel-Palestinian Two-State Solution 'in Serious Danger'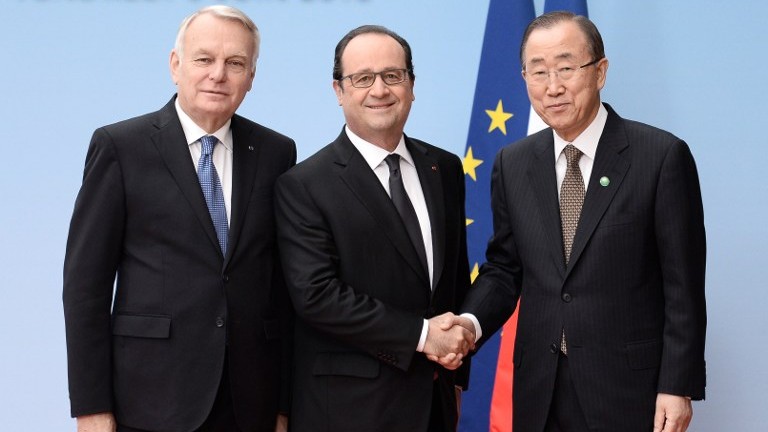 Hopes of a "two-state solution" in the Israeli-Palestinian conflict are in "serious danger", French Foreign Minister Jean-Marc Ayrault has warned.
"We must act, urgently," he said at a French-led conference in Paris aimed at reviving the stalled peace process.
Officials from the Middle East Quartet, the UN, Arab League and more than 20 states attended the discussions.
The Palestinians described the talks as "a very significant step", while Israel criticised the meeting.
Neither side was represented at the Paris gathering.
Mr Ayrault said urgent actions were needed "to preserve the two-state solution, revive it before it is too late".
Major powers were aiming to work out this month a number of security guarantees and economic incentives to encourage Israel and the Palestinians to resurrect the peace talks by the end of 2016, he added.
French President, Francois Hollande, also warned that the threats posed by regional wars in the Middle East made a settlement between Israel and the Palestinians even more urgent.
The consensus among diplomats appeared to be that any effort to revive the peace process was better than nothing at all, correspondents said, even though few were optimistic about concrete results.
The initiative was praised by Palestinian officials but criticised by Israel, saying the meeting "only hardened Palestinian positions and pushed peace further away".
The day after will be for the extremists.
Meanwhile, senior Palestinian negotiator Saeb Erekat told the BBC that "the mere fact that they met in Paris, these 26 countries along with the EU, the Arab League and the UN is a very significant step."
"And I think President Hollande really pinpointed the issue here: if we continue our failure in the peace process, if this Israeli government continues its policies of settlement and dictations and fait accompli policies, the day after will be the day for the extremists."
There have been numerous rounds of peace talks between Israel and the Palestinians since the early 1990s, with the most recent collapsing in acrimony in April 2014.
The Palestinians accused Israel of reneging on a deal to free prisoners, while Israel said it would not continue negotiations after the Palestinians decided to bring the Islamist Hamas movement into a unity government.(T/R07/R01)
Mi'raj Islamic News Agency (MINA)