Israel Inaugurates "Trump Heights" on Golan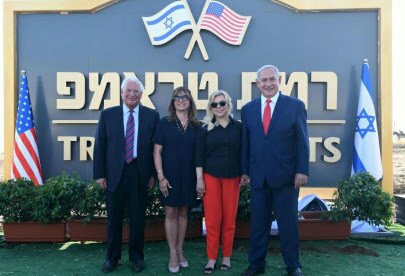 Golan Heights, MINA – Israeli government inaugurated a new community on Golan Heights with name "Trump Heights". The name is a tribute to President of the United States (US) Donald Trump who unilaterally recognizes Golan Heights belonging to majority Jewish state.
The true Golan region belongs to Syria. The territory was occupied by Israel in the 1967 war and later annexed several years later. International community has never acknowledged the annexation. However, Trump in March unilaterally gave recognition that made Syria and Arab countries angry.
"Trump Heights" project is intended to strengthen US and Israeli relations. In a special cabinet session in Beruchim, a clutch of houses rarely only 12 km (7.5 miles) from the ceasefire line of Golan Heights with Syria, Netanyahu launched a sign that read "Trump Heights" in English and Hebrew.
The sign is decorated with Israeli and US flags and planted on a piece of synthetic grass.
"Trump is a good friend of Israel," Netanyahu said, as quoted from Sindonews on Monday, June 17. "He has taken the mask of hypocrisy that does not recognize what is clear," he said again.
Israeli authorities hope that revamping Beruchim as home to community of immigrants from the former Soviet Union and "Trump Heights" will trigger a wave of residents.
But a June 12 memorandum from Netanyahu's office showed the plan was far from being implemented, because Israel did not have allotment funds and final approval for the exact location and name.
"In this resolution (cabinet), it was proposed that the community name, if established 'Trump Heights'," read a memorandum signed by the deputy legal advisor, Yael Cohen.
The problem was partly due to the fact that Netanyahu headed a temporary government, after failing to form a coalition after advancing in the April 9 general election in Israel. The prime minister must now fight for votes in the re-election on September 17.
In such intervals, Cohen wrote; "Legal decisions require, as a general rule, to refrain from making cabinet decisions".
Rival Netanyahu laughed at the inauguration ceremony of "Trump Heights" community on Sunday.
"Anyone who reads the small print on 'historic' resolution understands that it is resolution of the puppets," read a tweet from Zvi Hauser, a former Netanyahu cabinet minister who is now part of opposition party.
Netanyahu's political failure has tested Trump's patience, which earlier this month said Israel was chaotic because of the election and needed to unite their actions. (T/Sj/R04)
Mi'raj News Agency (MINA)