ISRAEL FAILED TO MINIMISE GAZA CIVILIAN DEATHS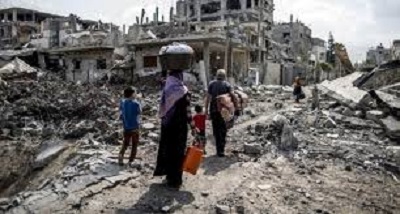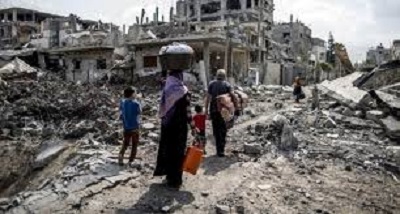 Occupied Jerusalem, 3 Rabi'ul Akhir 1436/24 January 2015 (MINA) – Israeli conduct during last summer's war in the Gaza Strip increased the number of civilian casualties, an independent report has said, by failing to differentiate between military targets and civilian populations.
Despite claims to the contrary, the military did not give sufficient warning for civilians to evacuate residential areas before striking them, according to the report partly commissioned by Physicians for Human Rights and carried out by eight independent medical experts.
The report also cited potential violations of humanitarian law and indiscriminate strikes that led to the deaths of medical workers, and called for a full inquiry into the 50-day conflict, Gulfnews quoted by Mi'raj Islamic News Agency (MINA) as reporting.
"Attacks were characterised by heavy and unpredictable bombardments of civilian neighbourhoods in a manner that failed to discriminate between legitimate targets and protected populations," said the report, which was published Tuesday.
"In numerous cases, double or multiple consecutive strikes on a single location led to multiple civilian casualties and to injuries and deaths among rescuers."
The 237-page report was based on visits during and after the war, using interviews with 68 people wounded during the fighting, autopsies on 370 people killed and the review of dozens of medical files.
The report said Israel's "early warning" procedures – including phone calls, text messages and dropping preliminary non-explosive missiles on buildings before striking them – were inconsistent and often did not provide enough time for evacuation.
Palestinian NGO Al Mezan has said the ineffective use of preliminary warning strikes could constitute a war crime.
The Palestinians are attempting to sue Israeli officials over alleged war through the International Criminal Court, having formally joined the body earlier this month.
The report added that in Khuzaa, in southern Gaza, the "reported conduct of specific troops in the area is indicative of additional serious violations of international human rights and humanitarian law."
It recommended a "legal determination of violations of international human rights and humanitarian law, whether through local or international justice mechanisms."
The Israeli regime's assault on Gaza killed nearly 2,200 Palestinians, mostly civilians, and has caused growing instability in Gaza, where 100,000 people whose homes were destroyed or damaged remain displaced.
Another 73 died on the Israeli side, mostly soldiers.(T/P009/P3)
Mi'raj Islamic News Agency (MINA)