Israel bans Indonesia tourists to Enter Al-Aqsa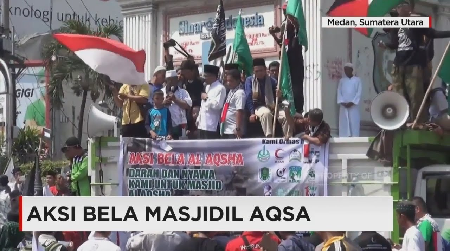 Tel Aviv, MINA – Israel has moved to ban the entry of Indonesian tourists, in retaliation for Jakarta suspending visas for Israelis in the aftermath of the massacre in Gaza last week.
Indonesia strongly condemned Israel's brutal actions against Palestinians during recent border protests held to mark 70 years since the Nakba, when nearly one million Palestinians were forced out of their homes to make way for the creation of the state of Israel.
An earlier statement from the Israeli Foreign Ministry spokesman Emmanuel Nahshon said that Israel was trying to reverse Indonesia's decision, but such efforts seem to have failed, prompting a reciprocal ban. MEMO reported.
There are no diplomatic relations between Israel and Indonesia, but the two countries maintain economic ties so Israelis can visit the Asian country using temporary or business visas. Earlier this month, reports surfaced that Indonesia was considering issuing tourist visas to Israeli citizens, prior to their complete suspension.
Every year tens of thousands of Muslims, including groups from Indonesia, enter Israel to visit Al-Aqsa Mosque, under a special visa.
In 2015, Israel's Economy Ministry reported on a significant increase in trade between the two countries, which then stood at about $500 million annually. Indonesia's main exports to Israel included raw materials such as plastic, wood, coal, textiles and palm oil.
Israeli Prime Minister Benjamin Netanyahu has previously called for Indonesia to establish formal ties, and the Foreign Ministry revealed in 2016 that Israeli officials had been conducting secret meetings with contacts "in an attempt to improve the ties between the nations".
The Indonesian public have strongly supported the Palestinian cause and the country witnessed numerous demonstrations earlier this month in protest of US President Donald Trump's decision to move the American embassy to Jerusalem. (R/P2)
Mi'raj News Agency (MINA)