Indonesian Ulema Visits Pakistan to Help Advice of Kashmir Crisis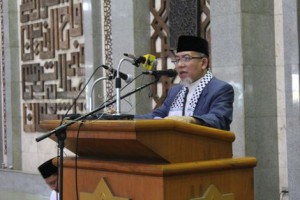 Jakarta, MINA – Representative of Indonesian Ulema, Yakhsyallah Mansur along with representatives of scholars from Southeast Asia (ASEAN) visited Pakistan in order to give advice to overcome the crisis in Kashmir.
Yaksyallah said that the Asean clerics group would be in Pakistan for five days from 4 to 8 November. They are scheduled to hold meetings and discuss with the Pakistani Parliament, the Ministry of Foreign Affairs, and representatives of NGOs and scholars Azad Jammu. They are also scheduled to visit several regions in Kashmir.
"Our visit to Pakistan as Deputy President of the International Association of Muslim Scholars. We carry out the mandate of our country's constitution, which is to help carrying out world order based on independence, eternal peace and social justice and all forms of colonialism on this world must be abolished," Yakhsallah told MINA, Sunday (3/11) ahead of his departure for Pakistan.
"I will convey to the leaders that in order to achieve peace, we must prioritize the interests of the people and keep ourselves away from personal and group egos," he added.
He assured, Islam is a religion of mercy for the universe, with a humanitarian approach, ukhuwah Islamiyah then they will be able to live in harmony, peace, mutual respect, and cooperation. Although different religions, but it is not a barrier to be able to work together on the principle of mutual respect between human beings.
"Here is our role as Muslims, conveying to world leaders, that Islam is a religion of peace," he explained.
Yakhsyallah Mansur is the leader of Jama'ah Muslimin, a forum of the unity of the Islamic ummah, it was born from the content of Islam for all Muslims, striving to realize the unity of the Ummah.
In the basis of his struggle, the Jama'ah Muslimin works and fights for Allah, together with Muslims towards the blessing of Allah, standing in the middle of the group, calling for virtue, commanding to do good and preventing evil deeds, rejecting any defamation colonialism, tyranny of a nation over a nation other nations and do ta'aruf among nations.. (L/Ast/P2)
Mi'raj News Agency (MINA)