Indonesian, Singapore FM Discuss Rohingya Refugees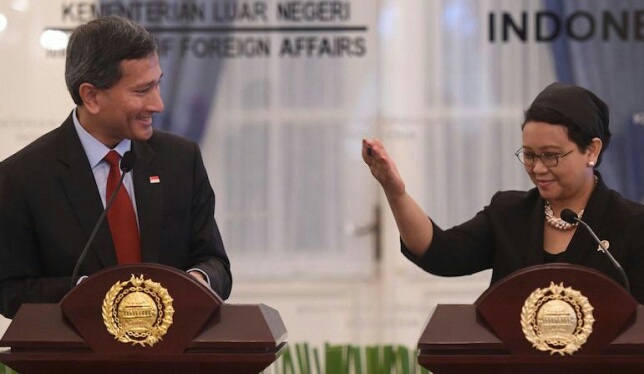 Indonesian Foreign Minister (right) and Singapore Foreign Minister (left) (photo: special)
Jakarta, MINA – Indonesian Minister of Foreign Affairs Retno Marsudi received a visit and held a bilateral meeting with Singaporean Foreign Minister Vivian Balakrishna at Pancasila Building, Indonesian Ministry of Foreign Affairs Complex, Jakarta on Tuesday July 16.
There were several things discussed at the meeting, including issue of repatriation of Rohingya Muslim refugees.
Retno stressed that for Rakhine problem, Indonesia and Singapore agree that repatriation of Rohingya ethnic minority must be immediately carried out. Moreover, there has been a report from the ASEAN Preliminary Needs Assessment Team regarding the repatriation of Rohingya.
"Of course we agree that repatriation really needs to be done as quickly as possible, but we must not rule out that repatriation must occur voluntarily, safely, and with dignity," said Retno.
Retno also reminded about the importance of security in Rakhine. According to her, there must be a guarantee of security, because it would be difficult if the repatriation was carried out under unfavorable security conditions.
"Until now it's not normal, therefore, we also continue communication with Myanmar, so that this security problem can be resolved," Retno explained.
She also explained that for security issues in Rakhine is the responsibility and authority of Myanmar government.
"For security issues, we cannot help because it is fully authority government. When it comes to basic services, the other parties can help, we must respect," she explained. (L/Sj/P2)
Mi'raj News Agency (MINA)