INDONESIAN MUSLIMS CONTRIBUTE TO WORLD CIVILIZATION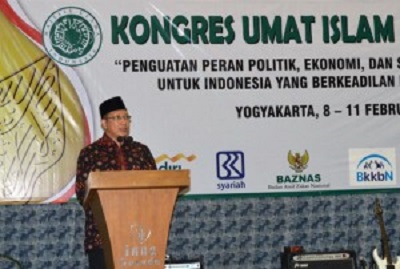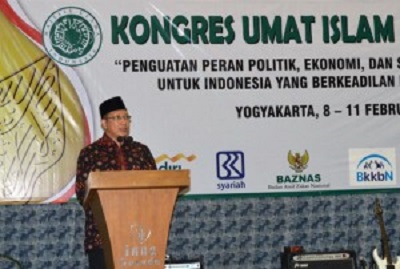 Yogyakarta, 19 Rabi'ul Akhir 1436/9 February 2015 (MINA) – Minister of Religious Affairs Lukman Hakim Saifuddin asserted, Indonesian Muslim population as the biggest number of Muslims in the world contribute to world civilization.
"Muslims in Indonesia should be able to provide greater positive contribution to world civilization," said Saifuddin in a speech to the Indonesian Muslims Congress (KUII) VI  at the Inna Garuda Hotel, Yogyakarta, Sunday night Feb. 8.
According to him, Muslims in Indonesia can be a model for the all nations in the world. Hopefully, KUII held by the Indonesian Ulema Council (MUI) could formulate strategic steps to realize the Muslims who are able to give contributions.
He also deplored many Muslim groups who easily considered someone an infidel because of differences of  understanding. This situation is disappointed, because the other religions is recruiting people to follow their religion.
"It is a matter of faith limit, therefore the Congress is expected to formulate limits where people can be said to believe or vice versa," said Saifuddin.
The congress VI brings theme "Strengthening the role of political, economic and social culture of Muslims for just and civilized Indonesia."
Meanwhile, Vice Chairman of MUI, KH. Ma'ruf Amin said, the challenge of Islamic politics and economy had a serious impact on the identity issue and socio-cultural civilization of Indonesian Muslims.
This Congress will introspect and evaluate Indonesian Muslims. The congress emphasizes on the role of Muslims in the three fields (economy, politics and culture).
"This is a time to think how Muslims participate in this country with a more active role," Amin said.
The Congress aims to bring together scholars, ulema and zuama in Indoneisa. May the Congress produce beneficial decisions that can be felt directly or indirectly by the Muslims in particular and people of Indonesia in general.
More than 700 participants from all over Indonesia attended the event including vice chairman of the People's Consultative Assembly, Hidayat Nur Wahid, Chairman of MUI, Din Syamsudin, several delegates representing some elements of Indonesian Muslims and neighboring countries, such as Singapore, Thailand, Vietnam and other countries.
KUII is officially opened by Vice President Jusuf Kalla on Monday Feb. 9 until Wednesday Feb. 11. The event will be closed by the President of Indonesia Joko Widodo (Jokowi). (L / P009/P3)
Mi'raj Islamic News Agency (MINA)