Indonesia Sends 850 Soldiers to UN Mission in Congo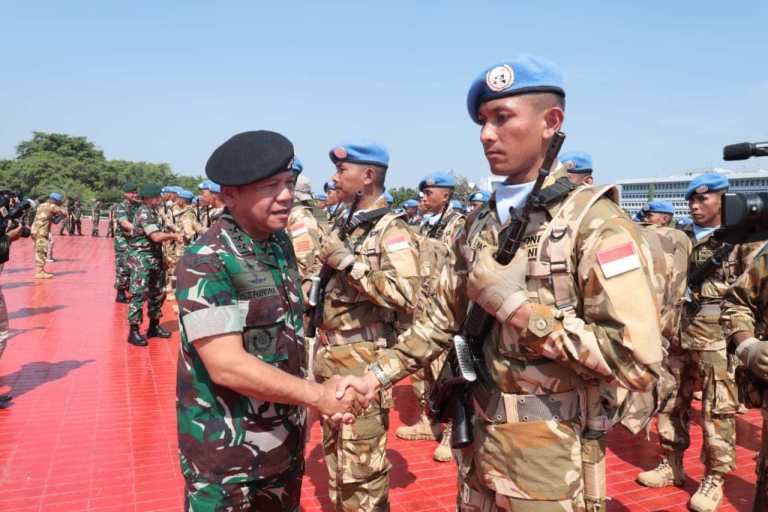 Indonesia Sends 850 Soldiers to UN Mission in Congo (photo: special)
Jakarta, MINA – The Indonesian National Army (TNI) is once again trusted by the United Nations (UN) to safeguard a peace mission in the Democratic Republic of Congo.
As 850 soldiers joined the Garuda XXXIX-B Task Force Battalion Rapid Action Battalion Mission de Organizations des Nations Unies pour La Stabilization en République Démocratique du Congo (Monusco), under the leadership of Dansatgas Col. Inf Daniel S.P. Lumbanraja and they were released by Lt. Gen. M. Herindra in Cilangkap, East Jakarta on Monday.
On that occasion, Herindra read the written speech of the Indonesian Army Commander, Hadi Tjahjanto. He said that the assignment of the UN was a special task because it was believed to be an ambassador of the Army and Army diplomat in an international forum, according to Infopublik as quoted by MINA.
He recalled the soldiers who would serve in Congo that the tasks would be laden with political, socio-cultural, and military diplomacy aspects.
Therefore, carry out the task with full responsibility and pride.
"Keep the good name of the person, unit, nation, and state and show the Indonesian Army are professional soldiers," he said.
According to him, the implementation of the task by the Indonesian Army was previously considered quite successful. The local community and the UN recognize the ability and value through a humanitarian approach.
"It is a very good start-up capital for you as a substitute task force. You will have a better and more complete initial picture of the assignment area, "he said. (T/Sj/P2)
Mi'raj News Agency (MINA)