Indonesia Honorary Consul in Palestine Innaugurated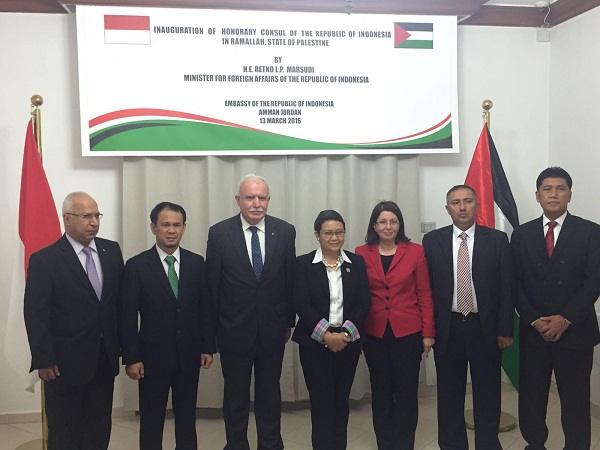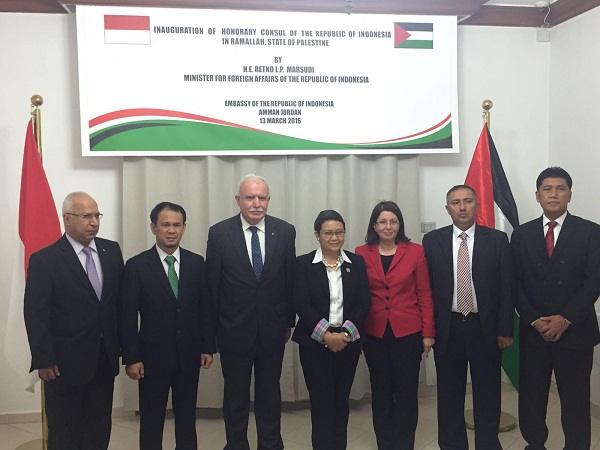 Ramallah, 7 Jumadil Akhir 1437/16 Maret, 2016 (MINA) – Indonesian Minister of Foreign Affairs, Retno Marsudi, on Sunday inaugurated its first Honorary Consul in Ramallah, Palestine, namely Maha Abu-Shusheh.
The innauguration conducted at the Embassy in Amman attended by the Palestinian Foreign Minister, Dr. Riyad al-Maliki, the Ambassadors of ASEAN and the OIC countries in Amman, Chairman of Commission I of the House of Representatives, Mahfudz Siddiq, the Indonesian Ambassador to Jordan, Teguh Wardoyo, as well as Palestinian and Jordanian officials.
The inauguration was conducted in Amman not long after Retno and her delegation were headed for Ramallah. Israel denied issuing an overflight permit for a Jordanian air force helicopter transporting Retno to Ramallah, according to the Cabinet Secretary website on Sunday.
Alternatively, Indonesia held the inauguration at the Indonesia Embassy in Amman. Retno also inaugurated Maha Abu-Shuhseh as honorary consul to Palestine.
Palestinian Foreign Affairs Minister Riyad al-Maliki, Indonesian Ambassador to Jordan Teguh Wardoyo, head of Commission I overseeing foreign affairs at the House of the Representatives Mahfud Siddiq and ambassadors of ASEAN and the Organization of Islamic Cooperation (OIC) witnessed the historic event.
The OIC held its fifth extraordinary summit last week in Jakarta, serving as a historic moment in helping to solve the longstanding Palestine-Israel conflict.
The opening of the honorary consulate is a manifest of Indonesia's support to Palestine's freedom, Retno said.
"Indonesia's support to the fight of the Palestinian people will never cease and we move forward one step today with the inauguration of Indonesia's honorary consulate in Ramallah," she said as quoted by setkab.go.id.
Retno asked consul Maha Abu- Shusheh to have an active role in boosting bilateral ties between the two countries.
"I hope Indonesia's consul in Ramallah can connect Indonesians and Palestinians," she said, adding that the office also served to provide protection to Indonesians and as a body for economic and social-cultural cooperation.
Indonesia's honorary consul in Ramallah is the first among 41 embassies and foreign consulates in Ramallah. Other foreign honorary consuls to Palestine are located in Bethlehem, Israel.
Indonesia will continue to provide aid to Palestine to help end the conflict, Retno said.
Indonesia served as a co-sponsor for Palestine to become a UN non-observer state. Moreover, Indonesia has also given its support for Palestine to join UNESCO and validated the Declaration on Palestine at the 60th anniversary of the Asian-African Conference, last year.
Indonesia also contributed US$1 million to the 2007 Paris Donors Conference as part of preparations for Palestine's independence, establishing the Indonesian Cardiac Facility at Al-Shifa Hospital in Gaza and providing other humanitarian aid.
Indonesia and Palestine trade relations recorded an increase to $3.67 million in 201, from $1.02 million in 2014. Around 50,000 Indonesians visit Palestine every year , including Muslims and Christians for pilgrimage purposes.(L/R04/R03)
Mi'raj Islamic News Agency (MINA)