Imaam Yakhsyallah Invites Indonesians to Support Palestinian by Buying its Products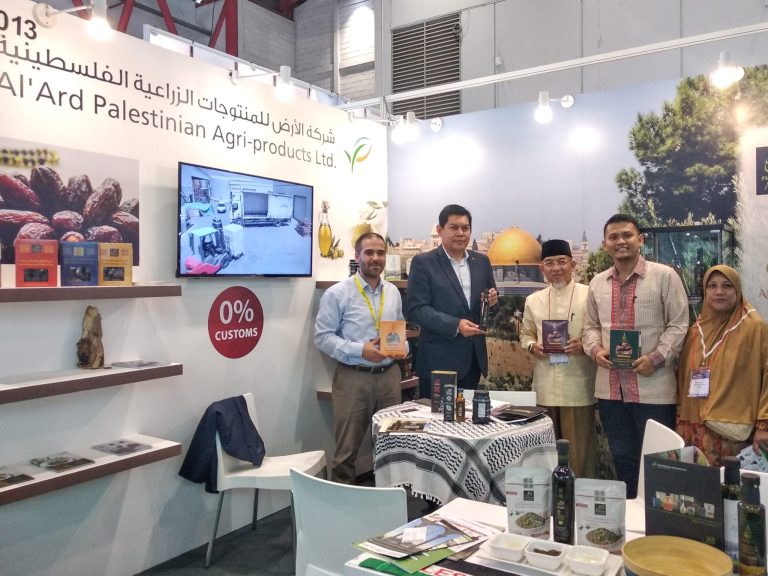 Imaam Yakhsyallahu Mansur visits Palestinian stand (photo: special)
Jakarta, MINA – Imaam Jama'ah Muslimin (Hizbullah) Yakhsyallah Mansur invites Indonesian people, especially Muslims to support Palestinian products.
"We expect the Indonesian people, especially the Muslims, to support this exhibition by visiting Palestinian stand and buy its products," Imaam told MINA while visiting Palestinian stand at the SIAL Interfood 2019 Exhibition in Jakarta International Expo Kemayoran on Friday, November 15.
"By buying for Palestinian products, it means that they can increase production there, by buying products there means making the Palestinian people prosper," he said.
Imaam assessed that the exhibitions participated by Palestinian companies were very important.
"In my opinion, this shows that Palestine still exists. Even though Israel has endeavored to be removed from the earth for 100 years, they still exist, "he said.
The proof, according to Imaam is that Palestinians can participate in various exhibitions, including the 2019 SIAL Interfood exhibition which was held on 13-16 November 2019 at JIExpo Kemayoran.
"Through exhibitions like this, they display products that are able to compete like other countries. Alhamdulillah, what we saw is that the results of Palestinian dates are indeed different from the others, "he said.
Imaam hoped that with the exhibition, Palestinians can continue their productions, so as to achieve maximum results.
"With their products, they can finance their struggle, because indeed in the struggle to liberate Palestine and also Aqsa Mosque it requires a lot of funds," said Imaam.
"From this industry exhibition, hopefully, their industries will continue to grow, so that they can finance the struggle so that Palestine can be stood by its self and Aqsa Mosque can be free from the clutches of Zionists," he added. (T/Sj/P2)
Mi'raj News Agency (MINA)