IBF 2018 Under the Theme "Reaching the Glory of Islam through Liiteracy" Kicks Off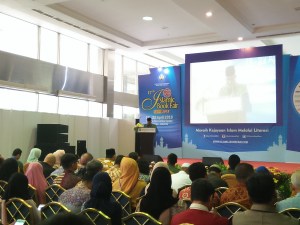 Jakarta, MINA – The 17th Islamic Book Fair was officially opened by Deputy House Speaker Fadli Zon on Wednesday at the Jakarta Convention Center (JCC), Senayan. The IBF theme this time is "Reaching the Glory of Islam Through Literacy".
In his speech, Fadli said the IBF held in Indonesia should be the largest in the world, as Indonesia is the largest Muslim country in the world.
According to Fadli, the IBF is very important because it shows the portrait of a civilization. While living in the digital age, where electronic books are so many, it turns out the exhibition of printed books can still be held. "It's a wonderful thing," he said appreciatively.
Fadli said that the IBF theme is very appropriate. In medieval times, he said, Islam is progressing and spreading thanks to the extraordinary literary work through madrassas.
Al-Ghazali, he said, had written "Ihya Ulumuddin" in the year 1100. Whereas in the Western world at that time the same prints have not been found with the same intellectual qualities with the work of Al-Ghazali.
In this exhibition there are 274 booths, 151 publishers, with 53,000 titles, and 15 million copies," said IBF Committee Chairman M Anis Baswedan. He said the exhibition is the largest in Southeast Asia.
Meanwhile, Chairman of the Indonesian Publishers Association (IKAPI) Jakarta branch, Kunia Hikmat said, this edition of IBF deliberately raised the theme of Islam through literacy because literacy is the root of the development of civilization.
"Literacy is the ability to read, write, speak, solve problems at the level required in family and community work," he said.
As the previous years, the organizers will also give awards to the best works of Islamic Book to the author of Islamic books in the country. (LT/R04/RS5)
Mi'raj News Agency (MINA)