GAZA STUDENTS HOLD SOLIDARITY RALLY FOR AL-AQSA MOSQUE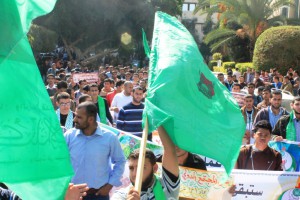 Gaza, 14 Muharram 1436/7 November 2014 (MINA) – Thousands students of the Islamic University of Gaza (IUG) this afternoon held long march as a form of solidarity rally with the Al-Aqsa Mosque that is currently under attack Israeli soldiers.
IUG Student Executive Agency (BEM)-led action  was supported by campus management team that is willing to stop the teaching and learning activities until the completion of the long march, Mi'raj Islamic News Agency (MINA) correspondent in the Gaza Strip reported.
Under the scorching sun, the students began solidarity march from the IUG Campus and moving towards the UN office building located not far from the location.
An Orator in the rally said, the youths are the backbone of the liberation struggle of the Al-Aqsa from Judaization actions by Israel and have a great responsibility for stopping what is happening now there.
An IUG student from Indonesia also participated in the rally. Reza, a student from Kalimantan called on all Muslim youths in the world to contribute and take responsibility in stopping the conflict and humiliation that is happening in the third holiest site of Islam.
"The youth and Muslim activists around the world should have a sense of responsibility and provide a real contribution for the liberation of Al-Aqsa Mosque from Israeli occupation," Reza told MINA correspondent.
Student who is majoring in the Ushuluddin, said similar activities should be held everywhere, including in Indonesia which claimed to support the struggle for the independence of Palestine.
"I see this kind of action is very good, if it can be performed by the young activists in the world including Indonesia, which claimed to care about the Palestine and Al-Aqsa Mosque," he said. (T/P006/P3)
Mi'raj Islamic News Agency (MINA)