Death Toll of Sri Lanka Bomb Up to 359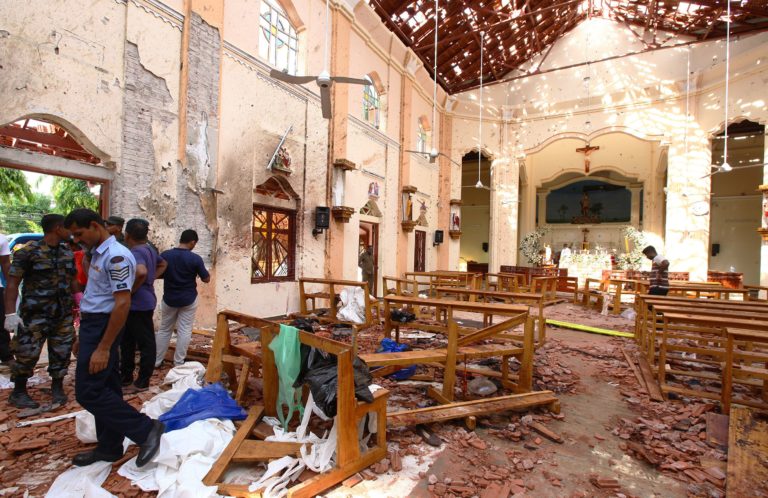 One of the churches that has been hit by a bomb attack in Sri Lanka on Easter Sunday, April 21, 2019. (Image: USA Today)
Colombo, MINA – Sri Lankan police say the death toll in Easter attack has increased up to 359 and currently some suspects have been arrested.
Police spokesman, Ruwan Gunasekara said on Wednesday morning, 18 suspects were arrested late Tuesday, increasing the number of detainees to 58.
Gunasekara said the suspects were detained in search operation carried out by police and security forces using emergency forces which were introduced since Sunday's attack, Al Arabiya reported.
"Based on information, we raided three locations and arrested 17 suspects," Gunasekera said. "Another suspect was arrested at the fourth location."
Gunasekera said the ambush was part of a security operation to track everyone who associated with the suicide bombing against three churches, three hotels and other locations.
Sri Lankan government has blamed the local Islamic group for the attack, the National Thowheeth Jamaah (NTJ).
Another top government official said that suicide bombings were carried out by Islamic fundamentalists as a real retaliation for the massacre of New Zealand mosque last month.
Prime Minister Ranil Wickremesinghe warned that several suspects armed with explosives were still free to roam.
"There are few more people on the run," Wickremesinghe said. "So we have to arrest them."
Islamic State Group (ISIS) has claimed responsibility for Sri Lankan bomb and released images intended to show the attackers.
Prime Minister said that investigators were still determining the extent of bombers' foreign relations. (T/Sj/R04)
Mi'raj News Agency (MINA)