David Cameron Resigns As U.K. Prime Minister After Brexit Vote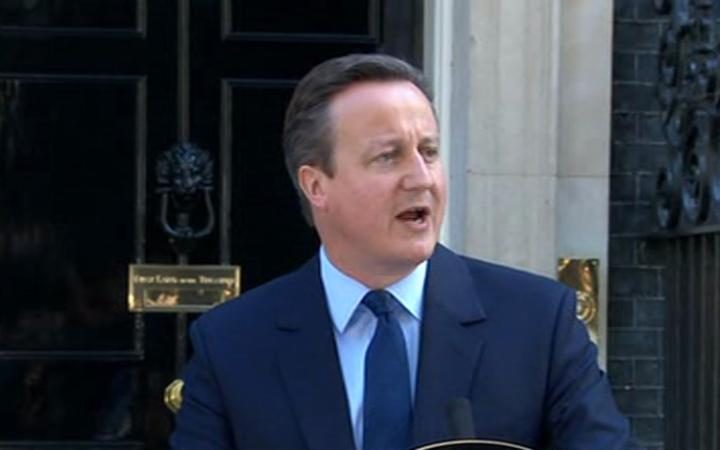 London, 19 Ramadan 1437/24 June 2016 (MINA) – David Cameron has resigned as Prime Minister after Britain voted to leave the European Union, The Telgraph reported.
With the Leave campaign securing 52 per cent of the vote, Cameron addressed the nation in an emotional speech outside 10 Downing Street on Friday morning to announce that he would be stepping down.
Cameron promised to stay in office until October and help "steady the ship" before a new leader is chosen.
"On questions about the arrangements for how we are governed, there are times when we should ask the people themselves," the Conservative Party leader said outside his prime ministerial home, 10 Downing Street. "The British people have asked to leave … their will must be respected."
Cameron, in power since 2010, had called the so-called Brexit referendum of his own accord after promising conservative factions of his party in 2013 that he would hold such a vote if he won re-election last year. Thursday's referendum badly weakened Cameron and means Britain will be the first country to withdraw from the 28-member EU.
"Now the decision has been made to leave, we need to find the best way," an emotional Cameron said. "I will do everything I can to help. I love this country and I feel honored to have served it. I will do anything I can in future to help this great country succeed," The Huffington Post reported.
Cameron had spent months advocating that citizens vote to remain in the union, and warned a decision to leave would drastically harm the economy. Voters ultimately spurned his appeals, with about 52 percent favoring Brexit.
"I held nothing back, I was absolutely clear in my belief," he said. "The British people have made a very clear decision to take a different path."
Cameron's dire economic warnings appear to have been founded. After the BBC called the referendum, the British pound plummeted to a 31-year low, pushing down global stock prices and bewildering investors.
The prime minister said he would meet with the European Council next week to explain the decision and begin the process toward the ultimate exit of the U.K. However, Cameron said such talks would be best undertaken by a new leader.
"I do not think it would be right for me to be the captain that steers our country to its next destination," he said.
Cameron had pledged before the vote to stay in office whatever the results. He had considered stepping down if 2014's Scottish independence referendum would have been successful, but the region ultimately decided to remain in the U.K.
Cameron had previously led the Conservative Party to a hearty electoral victory during last year's election, unseating political opponents in what The Guardian called probably "the biggest surprise in a general election since 1945."(T/R04/R03)
Mi'raj Islamic News Agency (MINA)