Colombia Unveils 'State of Palestine' Street in Bogota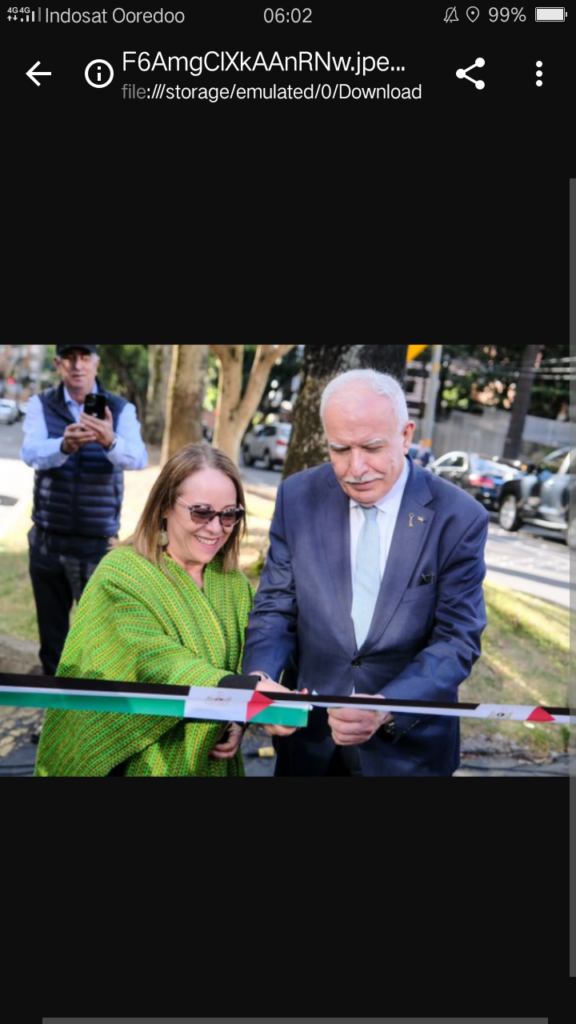 Palestinian Minister of Foreign Affairs and Expatriates of Palestine, Riyad Al-Maliki, and Bogota City Council member, Ana Teresa Bernal, inaugurate 'the State of Palestine' street in the Colombian city on 14 September 2023 [@ConcejoDeBogota/Twitter]
Bogota, MINA – Colombia's capital, Bogota on Thursday unveiled 'State of Palestine' street as a gesture of solidarity with the Palestinian people.
According to Wafa news agency, the inauguration ceremony was attended by Palestine's Minister of Foreign and Expatriates Affairs, Riyad Al-Maliki, and Bogota City Council member Ana Teresa Bernal.
During the event, Raouf Al-Maliki, the ambassador of the State of Palestine to the Republic of Colombia, conveyed his appreciation for this meaningful action. He praised the City Council and its members for their committed endeavours in passing the resolution to designate the street in honour of Palestine.
He highlighted that this act signifies Colombia's steadfast backing for the Palestinian people and their just aspirations and further noted the deep-seated connections between the two nations and their respective populations.
Bogota City Council member Bernal expressed her pride in naming one of the city's most prominent streets in honour of the State of Palestine. She stated that this decision attests to the Colombian people's unwavering support and solidarity with the Palestinian people in their rightful pursuit of an independent state.
The ceremony concluded with the cutting of the ribbon for 'State of Palestine Street' by Bernal and Foreign Minister Riyad Al-Maliki.
It comes after the Municipal Council approved the project earlier this year despite the Israeli lobby having worked tirelessly over the years to thwart the proposal under the pretext that Jewish residents live in the same street, which negatively impacts their psychology. (T/RE1/P2)
Mi'raj News Agency (MINA)