BRITISH YOUTH LAUNCHES FIRST MUSLIM REALITY TV SHOW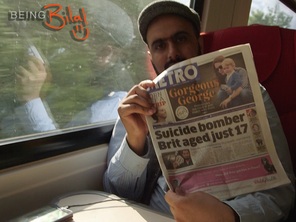 London, 18 Dzulqa'dah 1436/2 September 2015 (MINA) – Offering an entertaining and inspiring reconciliation of British and Muslim identities, a group of British youth have launched the country's first Muslim reality TV show to explore what it means to be a British Muslim.
"I'd like people to see that being a British Muslim comes in many different shapes and sizes, and that's a wonderful thing – wonderful for Muslims and wonderful for Britain," Bilal Hassam (28), who hails from Leicester said, On Islam quoted by Mi'raj Islamic News Agency (MINA) as reporting.
"I hope through seeing a little glimpse of my activist life people can come to appreciate a little of the lived reality of British Muslim life."
The British-born doctor, Hassam, was speaking about "Being Bilal" reality TV show that was launched by the British Muslim TV.
The unscripted reality TV show features the life of the British doctor who turned into a community activist.
The award-winning multi-faith team behind the show describes it as unapologetic, entertaining and often inspiring reconciliation of British and Muslim identities.
The producer of the Muslim serious, Tariq Chow, was inspired by the work of Hassam who spent the past decade in civil work, while pursuing his medical career.
"Chow wanted to capture that story convinced it could transform the way both Muslims and non-Muslims understand what it means to be a British Muslim," said Hassam.
"I get to experience a wide diversity of the British Muslim community and meet with senior community figures, scholars, artists and celebrities, as well as hang around with average blokes struggling along like everyone else.
"I also make a conscious effort to engage marginalized groups and movements within the British Muslim community, just as British Muslims experience marginalization vis-a-vis wider society," Hassam added.
Launched in June 2014, British Muslim TV channel joined a growing number of specialized broadcasting channels targeting the growing Muslim minority.
The channel cast aimed to create a content that reflects the different voices of the Muslim community in the UK and to embody the tag line "Confidently Muslim, Comfortably British".
With only four episodes screened, the feedback has been mostly positive, according to Hassam.
The audience of the UK's first Muslim reality TV show is from all over the world, with different religious background.
"We've had non-Muslims contact us already who've enjoyed the shows, and people all over the world including Morocco, Canada, South Africa and the Middle East," said Hassam.
"I think both Muslim and non-Muslim audiences will enjoy and potentially be challenged by the content.
"I tend not to fit in one box, and enjoy living in the space between sectarian, generational or class lines."
Extending the reality experience of the show, the existing TV format engages audiences through social media networks such as Facebook, Twitter and Snapchat.
"I got a picture of my show sent to me on Snapchat with a message which read: 'With love from your greatest Scottish fan.' I'm not sure if I'm quite ready for all that." However, he says he has "friends who are on standby to pull me back to Earth if I float off. "
However, some complain that the 23-minute videos are too short.
"I think young people are used to binge-watching series, so a half-hour show isn't enough," Hassam said.
"Thankfully, British Muslim TV will be putting up all the episodes on their exclusive subscription Video On Demand service. We've already had people sign up just to watch the show."
Channels for Muslim communities in the UK are not new and have been broadcasting in the UK since 2004.
Islam Channel is one of this country's most prominent and popular free-to-air, English language Muslim satellite channels.
Other channels like Noor TV, Peace TV and Iqra TV have a South Asian focus, with some of the content broadcast in Urdu or Bangladeshi. More recently, Shiite focused channels have also emerged like Hidayet TV and Ahlebait TV. (T/P006/R03)
Mi'raj Islamic News Agency (MINA)