Aid Trucks for Aleppo Still at Border : UN Official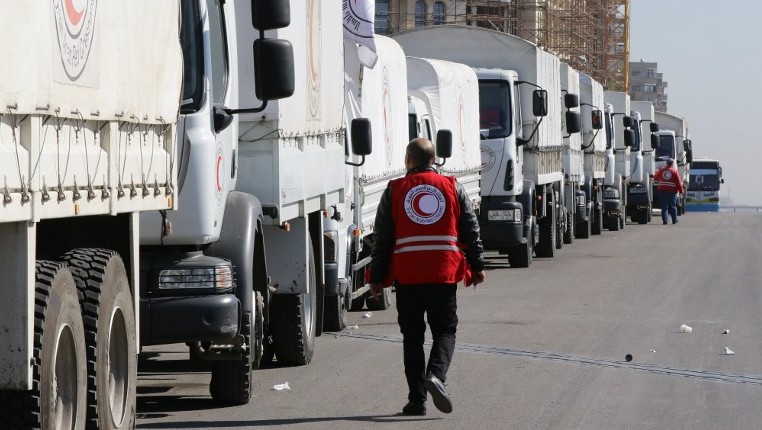 Geneva, 14 Muharram 1438/15 OOctober 2016 (MINA) – Humanitarian aid for the Syrian province of Aleppo is currently stuck at the Turkish border, said a UN official on Friday.
"Twenty UN humanitarian aid trucks have been stuck at the Turkish-Syrian border and aid supply cannot be reached to the east of Aleppo neither by air nor by land," UN Office for the Coordination of Humanitarian Affairs (OCHA) deputy spokesman Jens Laerke told Anadolu Agency on Friday.
"Since there are no assurances with regards to life and property, 20 trucks remained at the border," he added.
Twenty other humanitarian aid trucks had reached the city of Idlib and returned back by the end of September, he added.
"We are aware that the world is watching developments in Aleppo. We also follow and are deeply disappointed. Every passing hour and every day, people die. So, clashes should be stopped urgently," he said.
Speaking at a press conference in Geneva last week, UN Syria envoy Staffan de Mistura urged parties to cease attacks.
"If attacks keep going on like this, Aleppo would be destroyed in at most two or two and half months, claiming lives of thousands of civilians. All world will witness this by the end of this year," he had said.
The northern Syrian city of Aleppo — the country's largest city before the war — has been subject to an intense air campaign by Syrian and Russian warplanes amid clashes between forces allied to the Syrian regime and opposition forces. The city is populated with 275,000 civilians including 100,000 children.
Scores of civilians have reportedly been killed or injured in the attacks, which remain ongoing. (T/R07/R01)
Mi'raj Islamic News Agency (MINA)